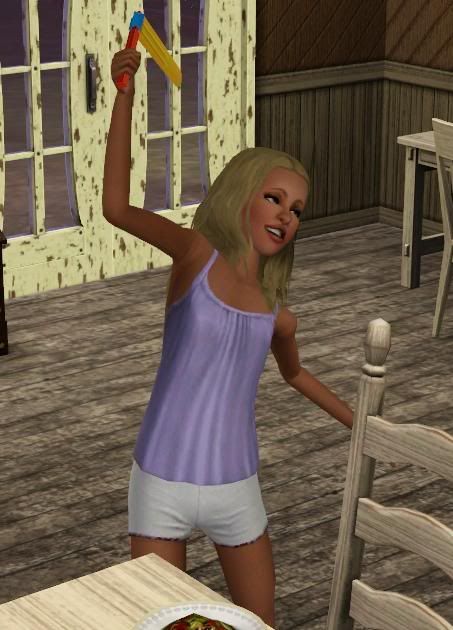 No time to mourn in the Abernathy house.. it's birthday time... Again! The teen years of Endora and Agatha were pretty uneventful. School, skilling..... school. As we get back to things we find that Endora has won the title of
heir
... and Agatha will be leaving the house as soon as she is old enough. Happy Birthday to our new heir!! ... and we also add a trait.. Family Oriented!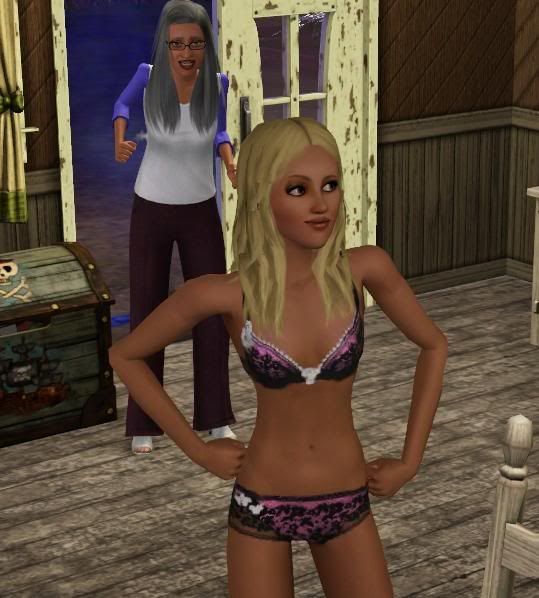 Nettie - Yowzah girly!!
Endora - Gross mom.. shush up... although I am kind of hot ...
Agatha
arrived
home just in time to have her birthday.. right after Theo gave her a stern talking to about constantly being caught out after curfew... she pretty much packed a bag that night and headed off for the bright lights and fast life that is Sunset Valley.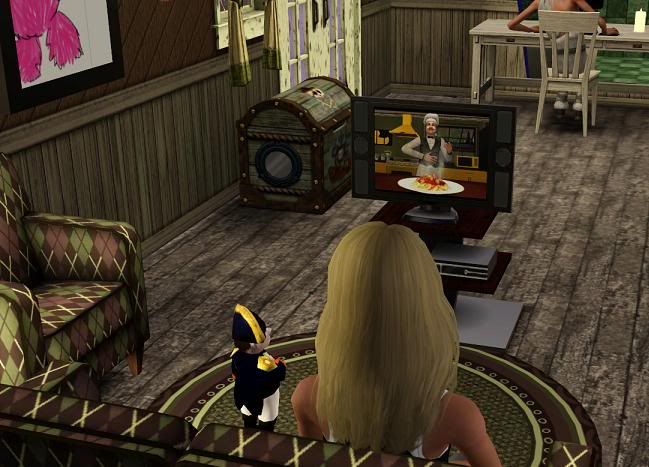 Endora pretty much continued with life as usual.. TV ... though the Gnome's interest in the cooking channel freaked her out a bit. She realized she really didn't have many friends and decided to get together with some of her school chums and see if sparks ... well ... sparked!
She called up Allen Berrios, he was such a cutie in school ... but when he showed up he wasn't quite how she remembered him.. the two realized that they were actually complete opposites and he spent about 30 mins at Endora's house before running away whining that he hates water and had to be at work anyway. What a loser.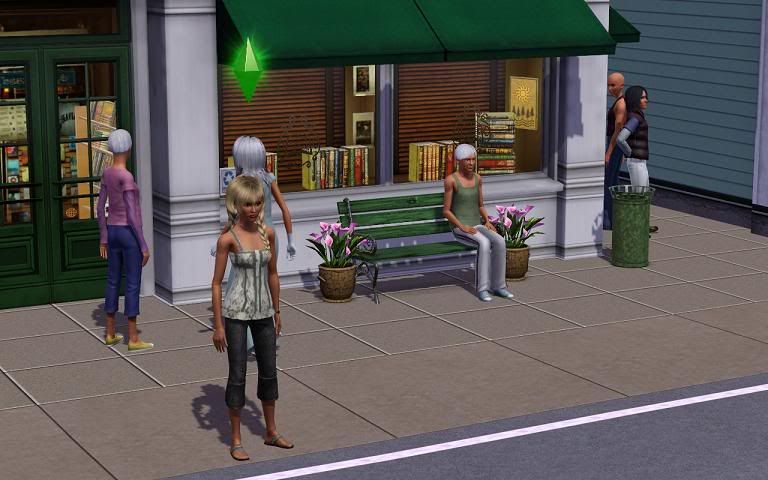 But that didn't bother Endora much.. she went out and got herself a more grown up make up over... ok maybe not more
grown up.
..but she still looked GOOD! She also realized that there were guys all over town.. just wandering around... sadly most seemed to have white hair. She did spot one cutie though and headed off in his direction....
Endora - Hey there hotness ... what's your name?
Brady Egan - Uhhhh, names Brady lady...
Endora - Lady? yeah .. umm hey do you like
Nectar?
I've been studying Nectar Making ... planning my first trip to France soon...
Bobbie Egan - Uhhh, excuse me miss but my son is only just in high school!!
Endora - Oh.. uhh, yeah.. that's right ... but I
just
aged up myself.
Bobbie Egan - I don't care, you are still an adult, pushing the evils of Nectar on my son so get lost!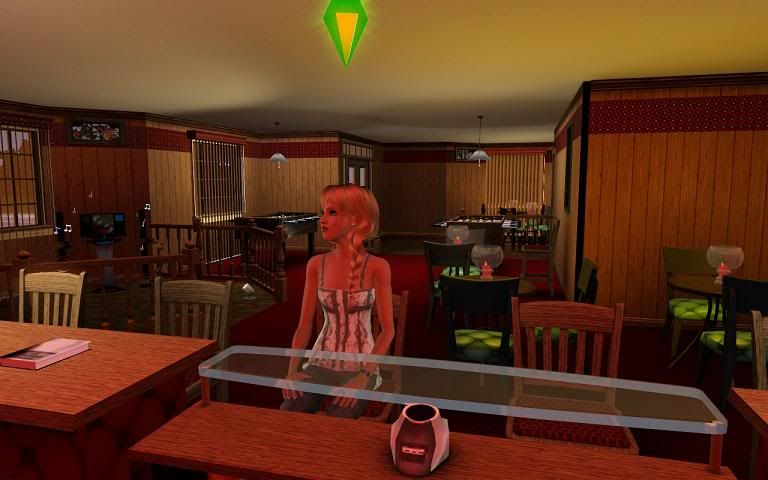 Endora wasn't sure what she had done wrong, but she decided to hit the local bar.. that's where grown ups met other grown ups right? Unfortunately there was literally not ONE single sim in the bar that day.
Back at home Nettie tries to encourage Endora,... maybe she needs to get away to meet a guy? After all she met her true love in France.
That night Endora dreamed of hot muscled French men...and grapes....
The next evening she packed up her bags and headed for the airport...
France here I come!!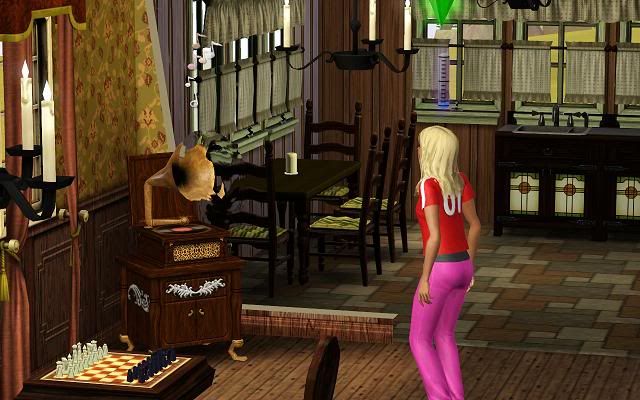 Endora had never been to the families French Vacation home, it was dreamy and had all the luxuries of home! She wasn't sure she ever wanted to leave.
But as fun and beautiful as France was Endora had a job to do.. she was here to really get down an dirty with her Nectar Making training. And that's just what she did. She spent her days gathering grapes ...
... and making nectar in a small Nectary in the countryside.
Thanks to the comfy home setting Endora was really able to maximize her time in France and get alot of nectar making done while there.
Following her second trip to France, Endora sold all of the Nectar she had made and was surprised to find that all her nectar combined increased her job level from level 1 to level 6!! Of course once at level 6 she realized that the amount of Nectar she actually has to make and sell is pretty substantial. She decided to renovate Gramp's Dark Room and had a basement put in under the old shed.. it made the perfect Nectar Cellar. Theo took over the upstairs portion of the old dark room and made it into a brightly lit art room so that he and Nettie could sculpt without that damn red lighting.
Endora has just started to grow her own grapes and other fruits for her Nectars... the household Gnomes seem to love hanging out at the garden with her.
Of course it's not all work and no play... Endora enjoys a good frolic in the sprinklers as much as any other sim.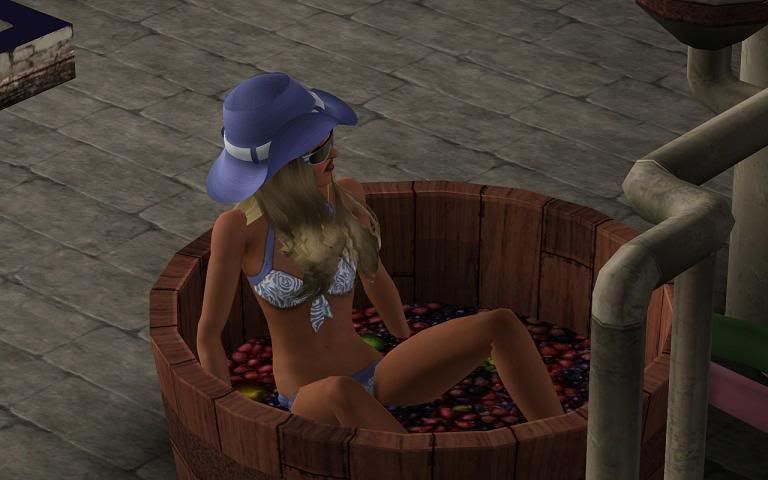 ... and no matter what anyone thinks.. stomping grapes is alot of work... no matter how good you look doing it !
Endora realized that she needs to really sell her product if she's going to succeed as Twinbrooks finest Nectar Maker. She decided to throw her first of many Nectar tasting parties.. just to get the word out. She had Gramp's Vespa painted purple.. like her Nectar's .. and hit the town with posters advertising her new line of Nectar and inviting people to come and sample her wares ... and her Nectar!!
The party started off slow.. Endora hadn't realized that Nettie was also going to play matchmaker. How embarrassing.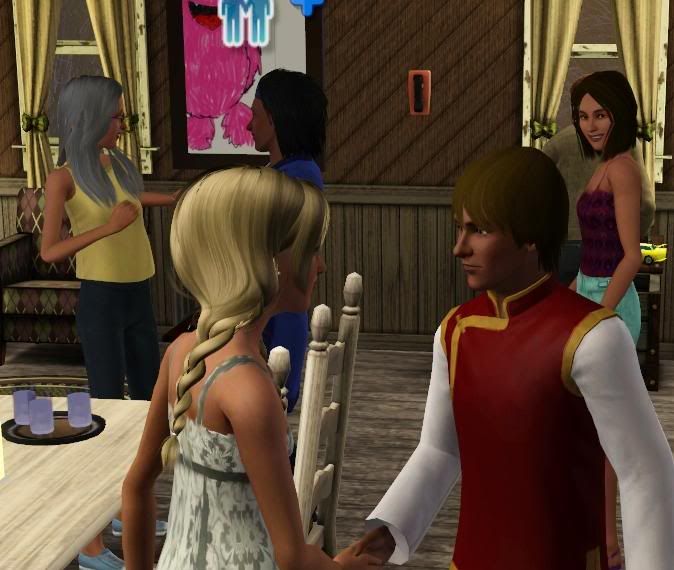 But .. surprise surprise... Endora did meet a nice young man at the party named Luther Broughton. At least he wasn't still in high school! He sure seemed interested, and he was a cutie.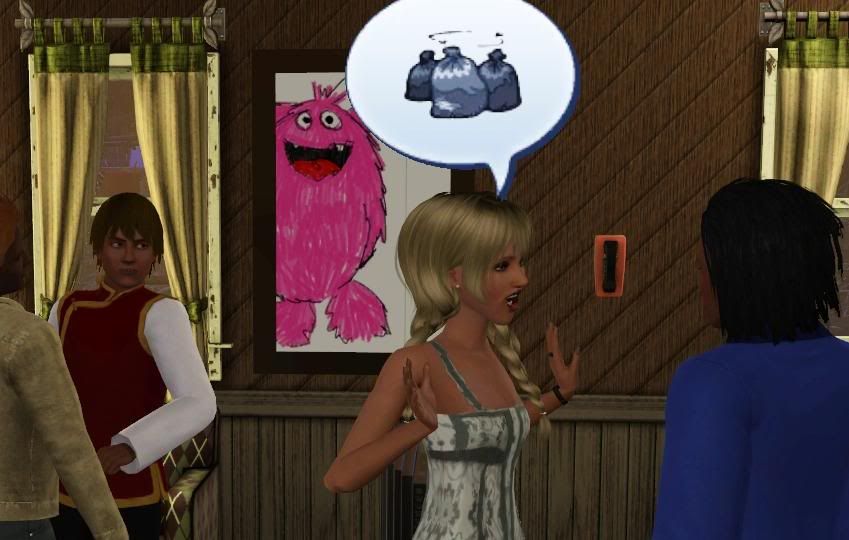 Endora also met Gino Cornett, he was nice enough but for some reason all he wanted to talk about was trash... weird? It didn't go unnoticed by Endora however that the whole time she was talking to Gino, Luther was watching.
Sure enough Luther made his way back to Endora before the end of the party. Endora is sure to be seeing more of Luther in the future... she wonders if he's ever been to France......
That night Endora went to bed exhausted but excited too... good thing she was asleep when Nettie decided to sneak in and lay next to her sleeping daughter ... nightmares about garbage were bad enough without realizing your mom had snuck into bed with you!!