Another generation comes to a close as Jacob passes on and River, our last heir, ages into a young adult.
River Abernathy ~ Final Career - Sculptor!
Traits:
~Absent Minded
~ Vegetarian
~ Athletic
~ Brave
~ Hopeless Romantic
Life Time Want - Tinkerer (Reach Level 10 in Logic and Handiness Skills)
Like many Abernathy heirs, River also moved to her own modest home as soon as she aged. Believe it or not this house was just a random move and yet there it is ... sculpting station and all, just ready to go!
River wasted no time and got right to work on building up those sculpting skills!
Of course she didn't quite fit my image of a sculptor, what with her evening gown attire and all... so a little 'punky' makeover was in order. :)
... River pretty much just ate, slept and sculpted. She made plenty of money from her sculptures to keep the basic bills paid. Even the bed in this house was pretty good, so no real remodeling needs... she did sell a sculpture and the painting easel when she moved in though.
Clay .. wood... clay.... wood....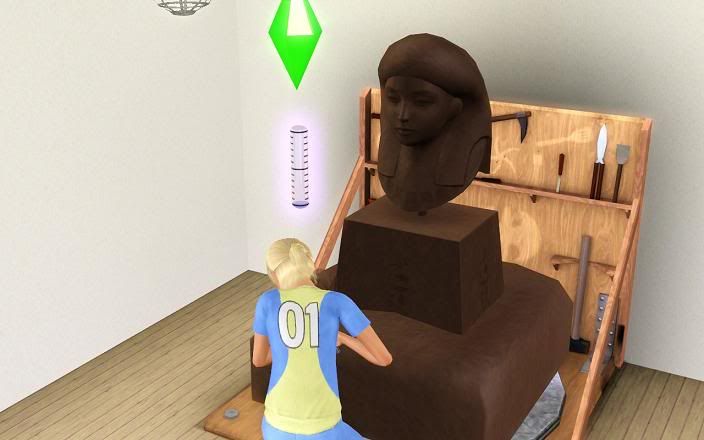 The only thing River loves more than sculpting is working out (sick woman!!) And because she's absent minded it's a bit of a challenge to make sure she stays on the sculpting bench and isn't running off to do jumping jacks in front of the TV every time I get up from the computer! LOL
Yes, it's a boring life for the most part.. probably the easiest Career in the whole Challenge.
River did get out a couple of days before aging up to a fully fledged adult. The 'mate hunt' and all that. I had a bit of Deja vue however when all I was finding was old folks around town.
Hmmm, this guy is kinda cute... at least he doesn't have white hair or boobs!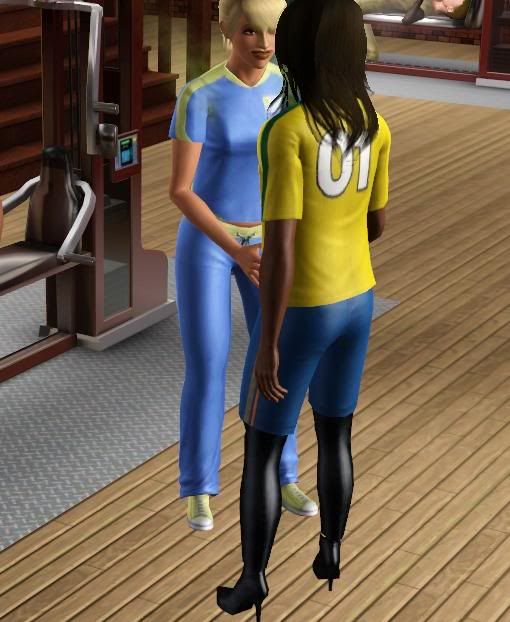 ... groan... ok ok but we can change his
hooker boots
later (... damn I can't find that file!)
Of course it's mostly a long distance relationship for River and her new man (Peter Ivy) ...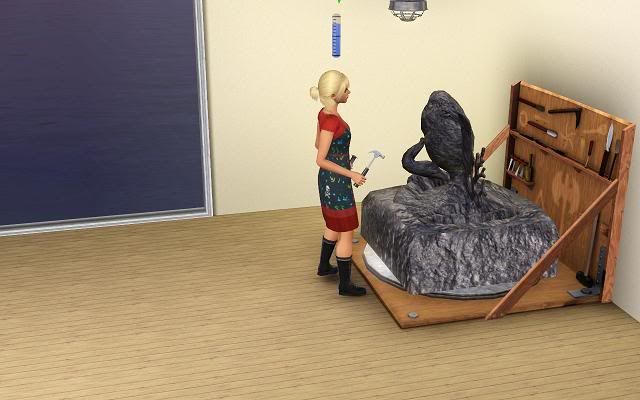 ...because she spends every spare minute sculpting....
........... sculpting...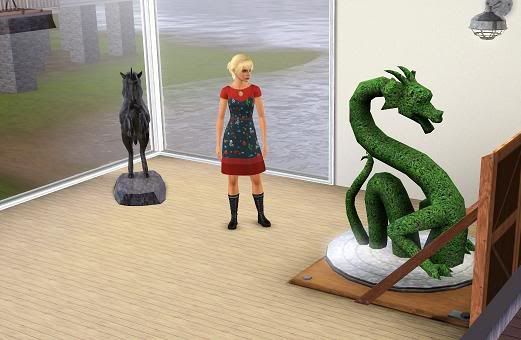 .........and yet ....... more sculpting.
Finally following her transformation (yeah she looks so different) to true adult hood, River decides it's time to invite Peter over in person and pop the question.
"Peter, you know how I feel about you... let's make babies!!"
(Peter sort of looks like David Cassidy to me here, LOL)
"Awww River you're so cute I could eat your face"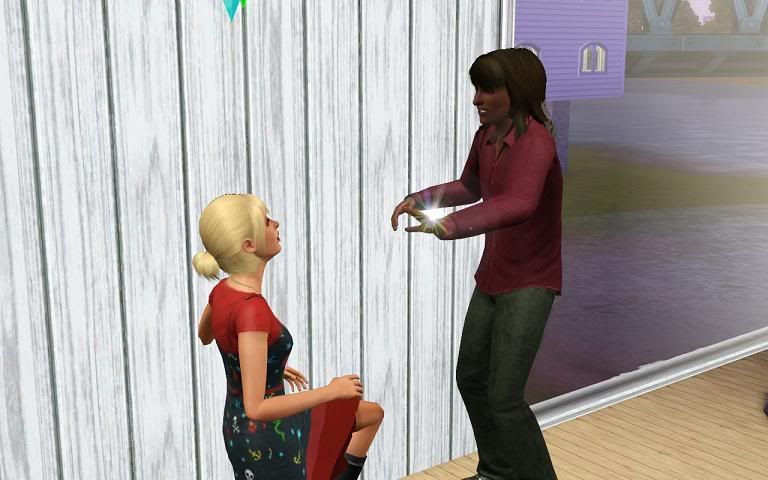 ... the rings are shared, the hooker boots in the trash....
... and the next generation is in the oven. (* I may still do the Movie Career)
River certainly isn't going to let a little old pregnancy slow her down... it's right back to the sculpting bench, big belly or not!
It's no surprise that River went into labor while sculpting... though I'm not sure if Peter is horrified at the idea of River popping out a baby or unicorn sculpture in the corner.
It was the birth of the babies (yes it's twins again), that sent Peter running to a nearby home. He (and I!!) just realized he's nearly an elder!!.... with little time to fulfill his LTW he (and I!!) desperately tried to get him some life fruit to buy him a few extra days....(which is why there are no 'baby' pictures)
...sadly our efforts were for nothing. No sooner did Peter arrive at the life fruit garden, he aged up to an elder. Now the clock is really ticking!
Meanwhile the girls (alot of girls in this family) Alice (purple socks) and Yara Sophia (green outfit) have had their first birthday. Yara Sophia will be pursuing an acting career I think!
Peter completes his first (Education) of four Careers. Peter's LTW is to be a Jack of All Trades (Reach Level 5 in Four Different Careers)
His traits are-
~Over Emotional
~Workaholic (Thank Goodness!!)
~Loves The Outdoors
~Technophobe (...really??)
~Coward
This is good because he can really boost those Career levels by 'working from home' .. unfortunately he's a technophobe so he hates the computer. Still 'working from home has been a life saver and Peter can almost clear a work level every day or every other day depending.
River continues her regular routine of sculpting... she is working on the Career Goal to sculpt each member of her family. She still doesn't smile much it seems.
Nice pose there Peter! LOL
...working from home!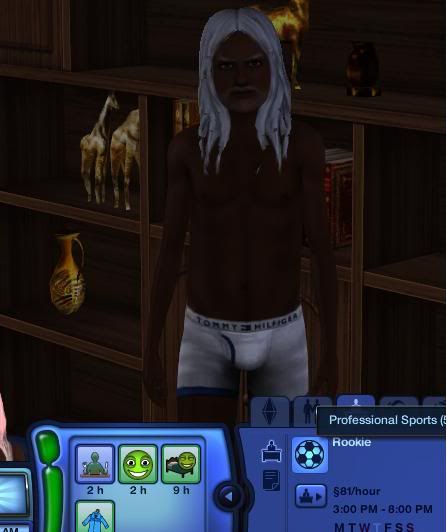 Peter finishes his second Career ... Professional Sports!
Alice ages up to a child.
...As does Yara Sophia ...despite the 'star' on her shirt, I think she could be a bit more glammed up... not Toddlers and Tiaras level but a bit more pizazz!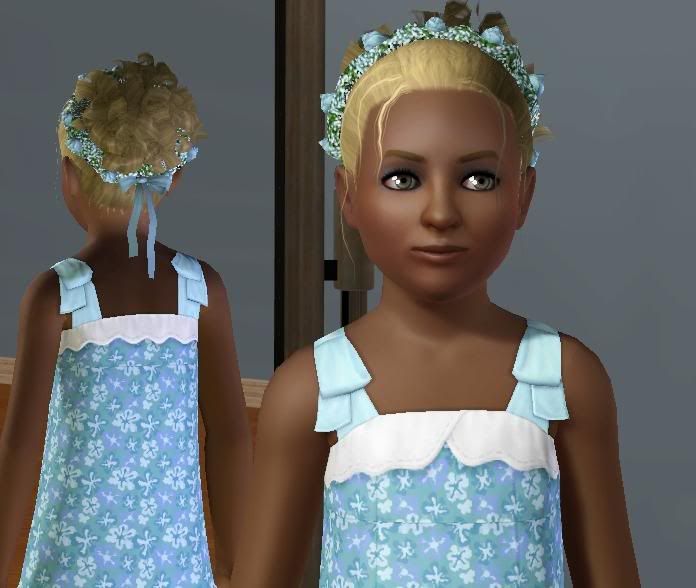 That's better ... :)
The girls pretty much are on their own. Like most Abernathy kids doing 'kid' things. Alice is a better student than Yara Sophia.. but Yara has more friends which can only be a good thing once she becomes a 'Staahhh' !
Music Career ... done.
River has also been spending less time at the sculpting bench and more time working on wrapping up her Logic and Handiness skills for her LTW.
.. and the days fly by for our family in a blur of school, working from home and reading.
Now that Yara Sophia is old enough she can start on the skills she'll need to make it in Bridgeport (where she will have to move is she is going to get a job in show business.
Peter is on his last Career (Business) with three levels to go it's going to be damn close!
Good thing Sims in Sims 3 don't die as soon as their meter runs out. Peter is several days over the full meter and thankfully has managed to top off the Business Career to Level 5 just in time.
River also managed to wrap up her LTW.
... as well as reach Level 10 of the Sculptor Career
Sculptor Career Goals
~ Reach Top of Sculptor Career -Check!!
~ Complete Master Sculptor Challenge in Career (see above pic) -Check!!
~ Complete the Ice Personality Challenge in the Career (see above pic) -Check!!
~ Sculpt every person in your house -Check!!
And so folks... this wraps up the Career Challenge proper. It's taken 9 months (I started July 2010!! ) ...and 29 Chapters.. several loses, many glitches, several reinstalls, and one new graphics card to do it too!! LOL
Also per my usual play. ... I 'kicked out' Yara Sophia when she aged to a young adult. And.. for the life of me I can NOT find her in the hood anywhere. I'm going to keep looking though and if I get a hold of her to move her to Bridgeport I will add one more chapter to this legacy.
Thanks to everyone who has been reading and commenting, I didn't think I'd make it to the end!! :)