Well it's been awhile... one computer reformat and two full reinstalls of Sims 3, not to mention numerous game shut downs without saving due to an overheating graphics card .. but finally the next chapter, our 11th heir and the Medical Career are finished!
We left off with Rose , who moved to the the big city of Bridgeport to pursue a career in Medicine.
Just to refresh Rose's Traits and LTW
-Inappropriate
-Excitable
-Virtuoso
-Kleptomaniac
-Workaholic
LTW - Possession is 9/10's of the Law Have $50,000 Worth Of Stolen Property
and pursue it she did. Having the Workaholic trait really helped this distracted country girl get by in the city. With all the hot spots, celebs and vamps running around it was downright exhausting trying to keep up with career goals and community clinics.
Rose really hit up some exclusive parties and hot spots.. she met Kai Leiko at one such party... sure he was a little full of himself but Rose really wasn't into the whole ball and chain deal. She liked her freedom. She was young why not enjoy herself.
... she also did need to carry on the family name ... and even though she might not want a hubby she did want a child. And Kai with his exotic looks seemed like good baby making stock.
.... why couldn't the computer break BEFORE the late night encounter with Kai?? Rose sure was smitten with him.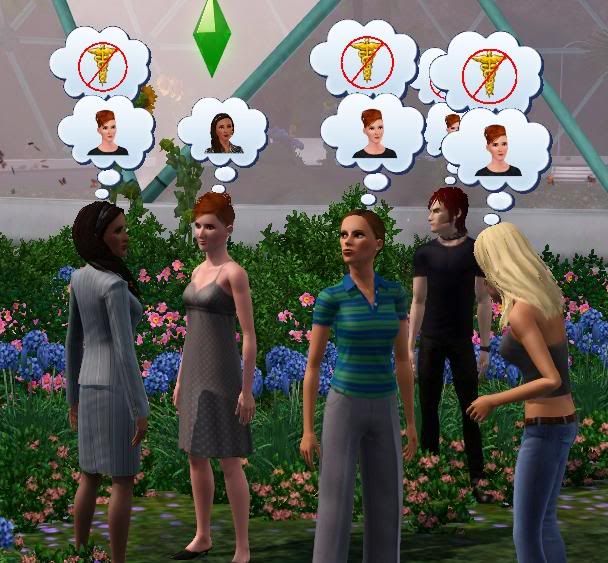 No time in Rose's life for regrets... she worked as long as possible, but once she started to show the Hospital heads made her take a forced maternity leave.
Which actually didn't hurt her career aspirations at all since she used the down time to work from home anyway.
Like many of the Abernathy women before her, Rose tried to hit up the Spa before her actual delivery hoping to ensure a healthy and positive atmosphere for both her and her soon to be born child... and like all the other Abernathy women before she failed miserably at timing and went into labor right after paying $7000 for the 'full treatment'!
Friends .. meet Pepper Abernathy ... and our first pixel glitch with the baby head!
Pepper had a pretty uneventful first few
days ....
her toddler
days
were pretty much spent with sitters. Rose really didn't care to move, she loved her apartment and the view.. and it was close to some of the hottest spots in the city.
Pepper had a crib in the living room, but she didn't mind, it made it easier for Rose to work at her computer while little Pepper played nearby.
Once Pepper was a bit older she started to share the bed with Rose. She wanted her own room and Rose thought of sleeping on the couch but her life had become a whirlwind of work, overtime, on call emergencies, community clinics, and because many recognized her as one of the best up and coming doctors in Bridgeport many sims simply solicited her expertise out in public.
Pepper, usually entertained herself with the telescope she got on her last birthday... to make up for no cake or party most likely. She loved watching people, and the stars as well.
Pepper's Traits
-Genius
-Neurotic
Pepper also rolled the Ghost Hunter Career!
.... more free medical care
...and again Pepper has a birthday. Rose as usual is out at the clubs.... although there is some gossip around town that Rose attends to some rather unscrupulous activities very late at night. Pepper isn't sure exactly what activities these might be.... but she has heard her mother talk about a rather large storage facility.
... unfortunately Rose does very little actual partying and usually winds up working even when she should just be enjoying a drink.
Not that things are ever boring at the clubs... drinking or not there is always someone acting a fool
Pepper never seems happy with her looks... and sadly she didn't inherited any of her dad's exotic looks.. if anything it looks like she's inherited all of her mothers genetics but in exaggerated form.
She spends most of her free time on the computer (when she can get it) or watching the news, seems there has been quite a crime spree in the city involving theft,... she also LOVES scary movies on TV.
One night she asked if she could go along with Rose, she was hoping Rose would take her along on one of her more secretive outings but... nope... they wound up going to a rather laid back bar near their apartment building. Rose figured it couldn't hurt to show Pepper a bit of the city, she was almost an adult and would give them some rare mother daughter time.
Rose was now at the top of her Career, a renowned surgeon. Everyone knew her... well alot of people knew her. She still continues her volunteer work at the community clinics and helping those who seek her out ... usually at the local bars!
...just a shot of the subway system. No need to own a car in the city.
... a bit clumsy for a surgeon no??
And so the wheel of time turns ...
Rose has entered her Golden Sim Years.. maybe now she can relax a bit ... or NOT!
Pepper however is just getting her city girl toes wet. She loved the bar her mother took her too so much she started sneaking into other hot spots around the city. She even started to make some friends.
Her obsession with dead things continued to grow... she noticed some people in the city seemed a bit different than most, they had amazing eyes and pale skin. She tried following one home one night but the police picked her up. She went back the next day to try and pick up where she left off last night but the trail was cold... real cold...
dead cold.
Still she searched the cemetery until it was again dark.
Pepper happend upon a small building in the corner of the cemetery. To her surprise it was unlocked. She followed the narrow stairs down, down ... down... until she found herself in a small room. there was a young man there serving drinks. He was odd but didn't have the pale skin or shimmering eyes of the stranger she had followed the night before. He offered her a drink ...
Rose was wrapping up her career. She noticed that Pepper was running with a bad crowd suddenly. Out all night, being brought home by the police. She'd have to find out what was going on.
Rose tried to get through to Pepper about the dangers of staying out all night in the city... of following pale skinned strangers into cemeteries at night. But Pepper wasn't really listening... she was fascinated by what she had learned and tried to explain to her mother that Vampires were real and they were in her city... and maybe... just maybe she liked them.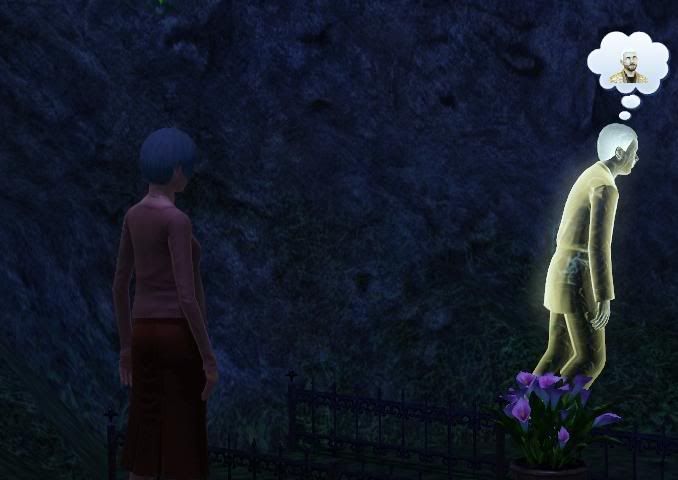 Rose tried to find out some info herself... venturing into the cemetery... no vamps but she did see real live ghosts!... real
dead
ghosts??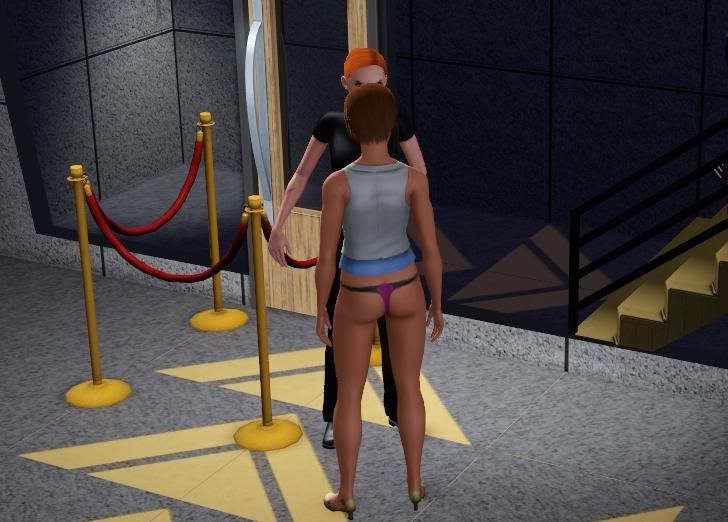 ...hitting up some of the more talked about clubs ... but found nothing other than really inappropriately dressed women... not that the bouncer would let her venture in any further.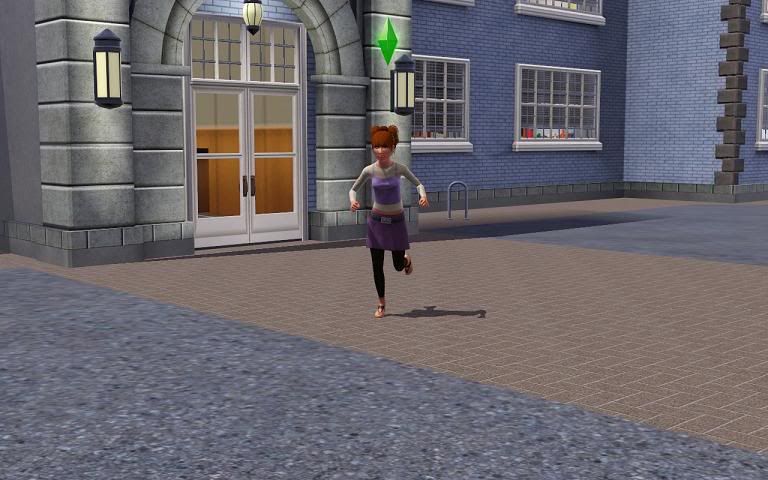 Pepper didn't care what her mother thought... her mother lived her life as she wanted and Pepper intended to do exactly the same thing.
As things with Pepper got worse Rose realized that she needed to change her life if she expected Pepper to listen to her. So with one last criminal act... Rose ended her shameful and secret life of crime... she didn't choose to be a thief ... she was born that way (thanks to the Klepto triat)... and having fulfilled some uncontrollable need to steal ( the LTW of Possession is 9/10 of the Law) she gave up stealing forever and returned all the accumulated items she'd stolen over the years.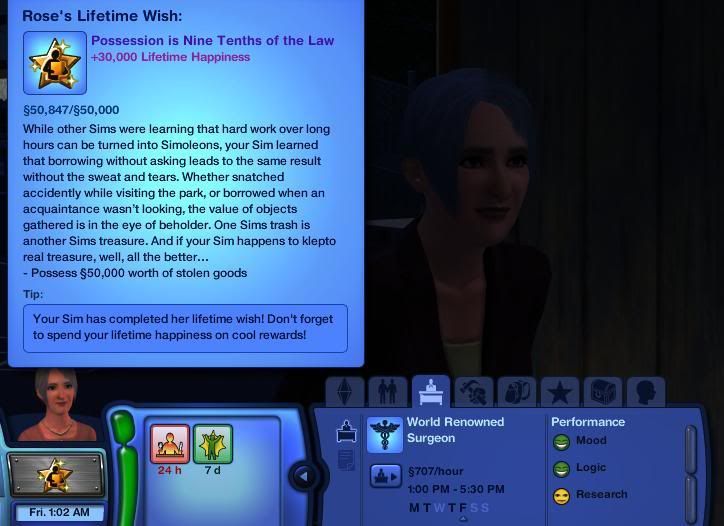 Rose also completed her Career Challenge Goals for Medical ...well sort of...
~Reach Top Level Of Medical Career Check!
~Complete 5 Free Clinics After Level 10 Check!
~Help 10 Sims In Local Emergencies Check!!
~ Brush Teeth and Wash Hands every day and after every meal *** ok... with all the reinstalls this one sort of fell to the side a bit at times. I usually remembered to brush teeth and wash hands in the evenings but since Rose often ate at work and when at home it was usually a 'quick meal' due to time constraints she sometimes... ok often missed brushing after meals. Since this particular heir came with so many set backs, restarts, loss of saves and pictures I didn't want to fail her for simply missing some of the tooth brushing opportunities***
Pepper continued to hit the clubs, but she seemed much more interested in the bubble machines than drinking.. and was hitting up the fresh, brightly lit bars instead of the dark, foreboding vamp hangouts. Maybe Rose did get through to her after all.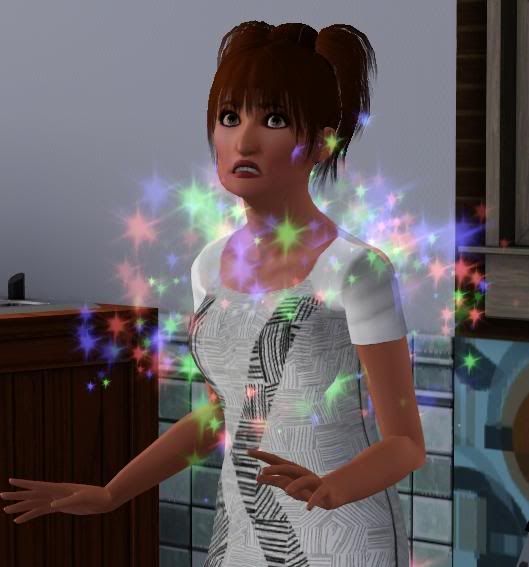 I guess we'll find out ............. in the next chapter! :)