Well Coral and Myles Jr. wasted no time getting the nursery squared away for the gilrs. Myles wasn't too thrilled with losing the color fight though... everyone knows red and black is cooler than pink and black! But since Coral won the color battle she let Myles Jr. hire the sitter... of course it was a mini-Myles .... Samir Dickens.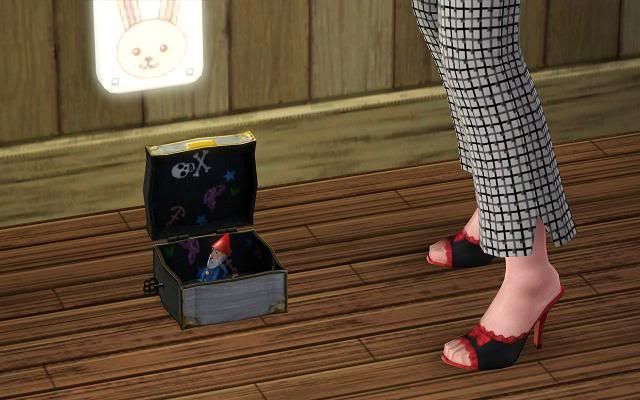 Coral loved rocking out to the Gnome Box.
And Myles Jr. found a new fun hobby... jumping!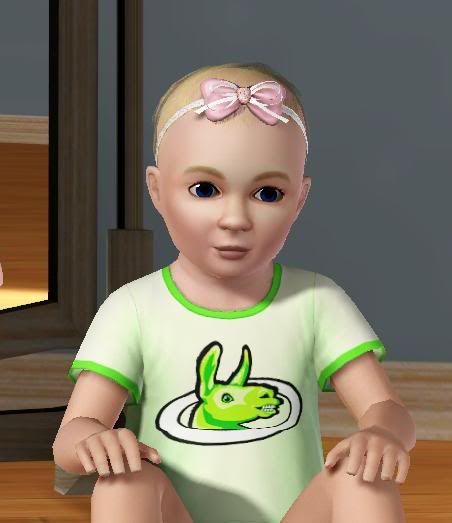 ... and of course the twins became toddlers in no time..
Ruby Abernathy
~Brave, Technophobe, Light Sleeper Rolled Career ~ Inventor
Rose Abernathy
~Inappropriate, Excitable, Virtuoso Rolled Career ~ Medical
...of course the string of birthdays rolls right along. Our Myles Jr. has moved on to from cool dude to old dude... uhh ... messed up old dude at that!...what's with the hair Myles??
Yikes! Uhhhh, Myles seems to have encountered some sort of odd punishment from the Sim Gods for trying to hang on to his coolness during the aging process. Nothing a hat and ummm contacts can't fix.. ha ha.
Life pretty much went on a usual in Barnacle Bay... Myles only needs only one more case and Coral has mastered her LTW.. so both just sort of hang around playing guitar or bouncing on the trampoline. The girls have grown again and are now in school.
I've decided not to control the two girls at all, I try to not even look at their wishes or needs and just let artificial intelligence run things, once they become teens I'm going to choose whoever has the highest reward points as the new heir!
Woohoo.. another birthday.. and Coral joins Myles Jr. as an 'elder'....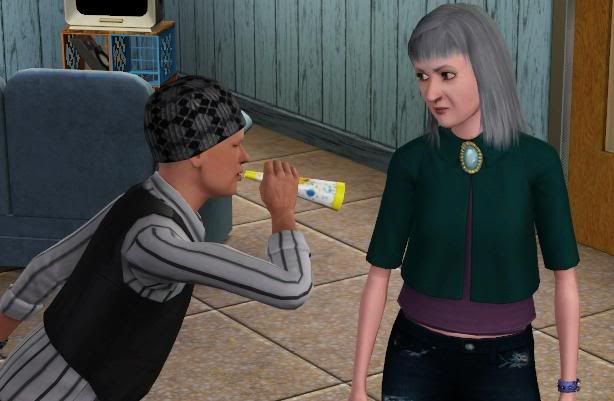 Coral - "Dude this look is SO not cool"
After a little time in front of the mirror and in the wardrobe Coral is finally satisfied with her hip Gradma attire and style... grey hair.. HA.. there is reason God made Hair Dye ya know.
Ahhh, the anticipation.. the day is here and both girls have just aged up to teen.. who will it be who will it be......
........
And it's Rose! 1844 Reward Points to Ruby's 682! Looks like Medical will the next Career conquered in our challenge
.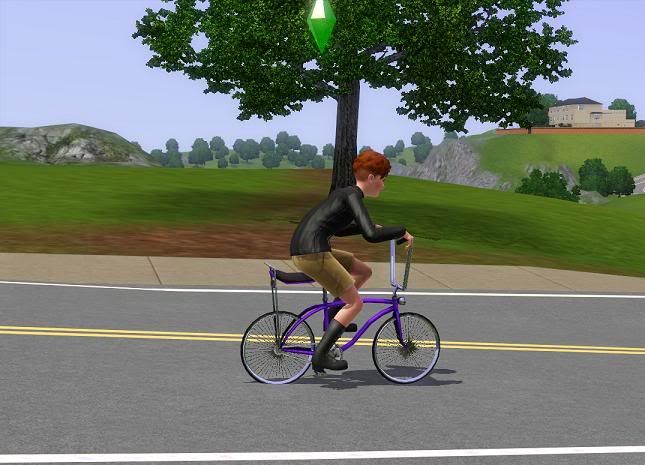 Rose seems to have that wild 'cool' streak her parents have, Ruby was a bit more mild mannered. Seems like their names should have been reversed.
Rose was thrilled when her parents hired a maid. She wasn't fond of cleaning and well, they were getting old. Irfan was really fun to talk to and Rose had to admit she had a bit of teen crush on the guy.
Myles Jr. however wasn't so thrilled with having Irfan around the house everyday. He lingered too long in the girls room while letting the dishes in the kitchen get all smelly.
Irfan was a maid not a slave and he let Myles Jr. know that he would get to the dishes when he got to them. It was all Myles could do to keep from drilling the guy.. but his wife and girls liked him and he wasn't ready to be the 'big bad meanie' over dishes..... yet.
... but as the days wore on Myles got more and more annoyed with Irfans socialization with Rose and Ruby. They were after all just teens and prone to excitable hormonal flirting. So Myles gave Irfan an ultimatum, stay out of the girls room.. they were old enough to make their own beds... otherwise he'd have to let Irfan go.
When Myles caught Irfan trying to convince Coral that Myles was being unreasonable he did the only thing he could.. he fired Irfan on the spot.
And so the agency sent over a new maid....Laurence Lamb.
....oh no.....
Hmmm, maybe it wasn't Irfan who was the problem. Rose picked up right where she left off with Irfan.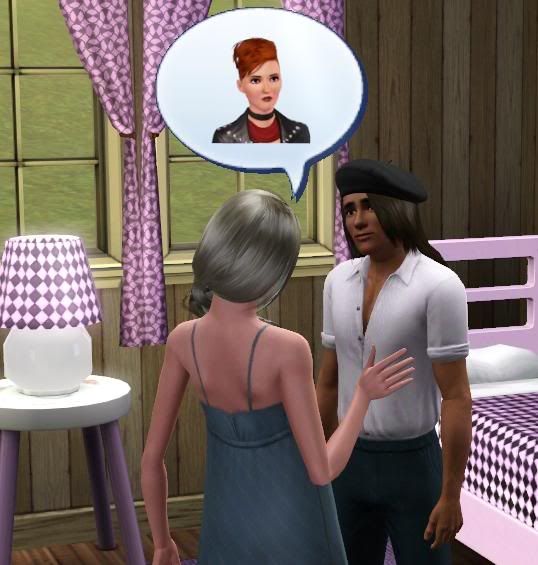 Coral warned Laurence about what happened before and asked Laurence to keep his interactions with the girls to a minimum. Laurence didn't seem to mind, as he informed Coral that he was into more
mature
women anyway.
Oh no.. with all the stress from wrapping up his career and living with two teen girls and a flirty maid Myles probably should have stayed off the trampoline
.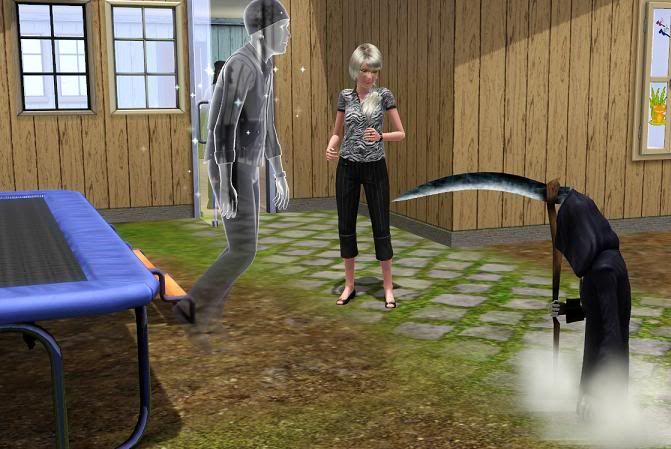 As Myles Jr. prepares to meet his maker ... or at least enter the Sim Spirit realm he takes note of his life and his accomplishments...
Investigator Career
~ Solve 35 Cases - Check!! He actually solved 35 DIFFERENT cases
~ Reach Top of Investigator Career -Check!
~ Optional WA - Get Top Level Visa For At Least One country.... I didn't do this , just too much 'catch up' play involved with having to reformat and remake Myles Jr. and repeat about 2/3 of the career.
Myles and Coral also both met their LTW of Golden Fingers - Golden Tongue (Reach Lvl 10 of the Charisma and Music Skills)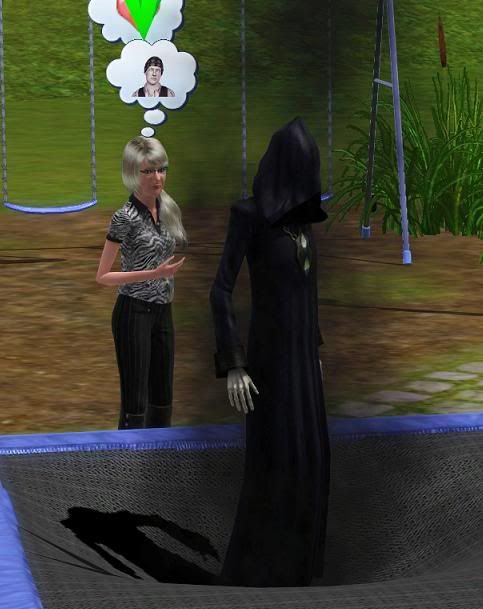 Coral wasn't overly torn up about Myles Jr. passing.. and she didn't even have the Stone Hearted reward... hmmm. She was amused by Grim showing up and did a bit of chatting with him, even inviting him to give the trampoline a go.
It also didn't take long for Coral and Laurence to hook up. After all she still had a few good weeks left and with the girls nearly about to graduate Coral was afraid to be left alone.
Shortly after Laurence moved in with his
cougar
the girls graduated! And while Ruby decided to stay at home a bit longer Rose has decided to move out. She felt like she'd seen all of what there was to be seen in Barnacle Bay and after doing an online search she realized that the city was where she needed to be if she really wanted to be successful in the Medical field. Besides she'd never been to night club in her life and she had to admitt they looked pretty fun in all the write ups and reviews ... and although she did believe in ghosts, she doubted the rumor about Vampires was real. And she was going to find out all on her own.. in the big City....
... Hello Bridgeport !!