There is a new twist to our Abernathy household ... my computer caught a nasty virus and dispite all the 'fixes' I tried I was unable to keep from reformatting. So sadly my saved Legacy game was lost... but having only 5 more Careers to get through I was not going to let this be the end of the Abernathy's! So I rebuilt our last current heir (Gen. 10) Myles Jr. Abernathy - Investigator extraordinaire!! Well as close as I could get him anyway, and picked right back up with the Challenge (restarting the Investigator Career with Myles Jr. as a new Young Adult, same traits and LTW as the original Myles Jr.)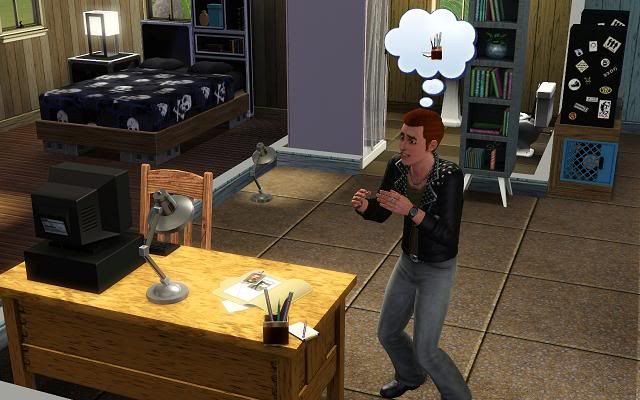 If you all remember Myles was having a heck of time meeting eligible single ladies in Barnacle Bay... and during his investigative work found out that the local Science Lab was into all sorts of shenanigans ... gene splicing, time travel, mutant fruits.. you name it... the last thing Myles really remembers is heading to the Science Lab to confront the head Evil Science dude... then everything went black.. next thing Myles knows he's back home... well sort of home.. thing look familiar but oddly different in a way he can't quite explain. His memory is foggy as well... seems he remembers alot of really old people ... a town full them actually!! And he remembers that he is a private eye ... but that's about it. His family, his childhood ... all a blank.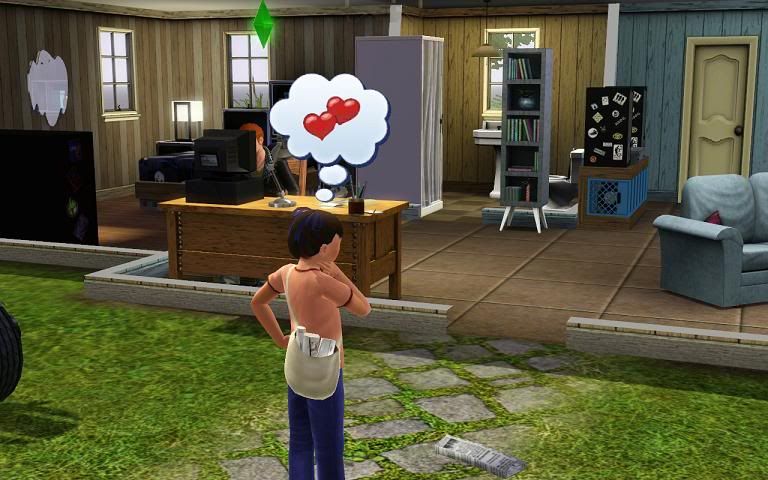 Oh good grief.. we go from no single ladies and a town full of white hairs to kids having crushes on the local PI?
To deal with the trauma of his memory loss and the odd feeling that things have somehow jumped back in time, Myles throws himself into his work. He might seem like he is buried in a book but he is always aware and taking note of the town folks and their actions.
He also notices that whatever issues he might have had in the past finding young single ladies about town is now just a distant memory... the hotties are everywhere! Although there is now some competition as well... especially the pesky Rahul Patel.. always butting in. Rahul was officially on the 'watch' list as far as Myles was concerned.
Ahhh yes... not an old person in sight.. must have all been a bad dream or something....
Myles wandered around town, trying to jog his memory... trying to recognize things... 'hmmm Gnomes'.... something about Gnomes....
Also Myles had been having dreams about someone named Adriana Dobbs. Myles checked all over town but found no Dobbs family... he remembered that they had gone to school together so he went to the school. He began hanging around almost daily asking the kids about a student named Adriana.. finally they all got creeped out enough to call the cops. Since they all know Myles down at the department they simply told him to get over things and move on... there was no Adriana Dobbs in the school and no Dobbs family in town.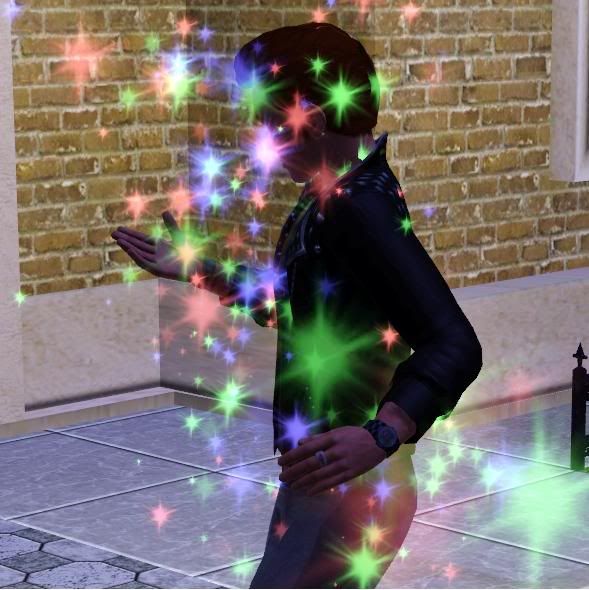 As Myles grew into a full Adult he realized that he would have to put this fuzzy past out of his mind and just live for the day! Today was the first day of his new life .. after all he was a successful Investigator and had received numerous Service Awards from the Mayor. He knew alot of people in town and was friends with several eligible young woman. Maybe it was time for this cool dude to settle down... or at least shack up!!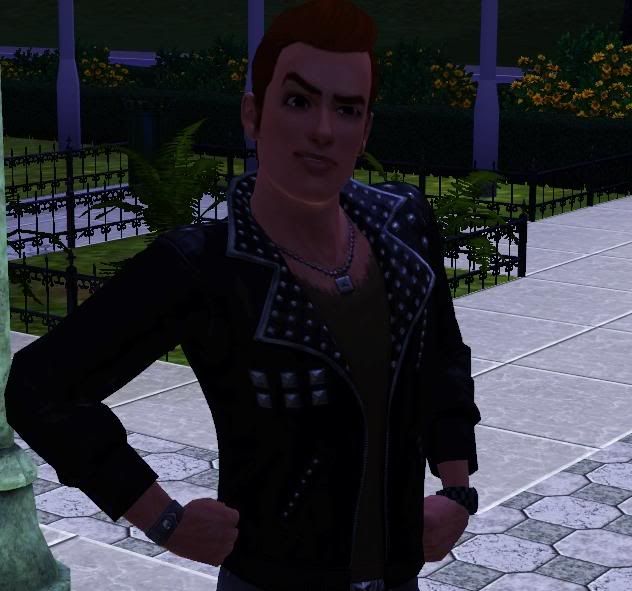 Oh yeah... the cool had returned and Myles wasn't going to waste another minute moping around town!
Heck he even got himself a pet ... Coby the Jellyfish... because Jellyfish are
cool
.... right??
Myles as reached the top of his Investigator Career and is presented with a Key To The City by the Mayor ... a few of Myles fans and friends show up for the celebration.
And since Myles is almost at Level 10 in the musical skill he decides to show his appreciation with a little song...
After the show Myles works the crowd.. well the ladies in the crowd anyway ... thankfully pesky Rahul is nowhere around.
Yoiks... Ummm... Myles and
what's her name
sure do hit it off.. and she's obviously not afraid to rock the hair but damn..... I just can't curse my 11th generation heir to these genetics.. I can't!!
Myles.. enough with the teens man... no one knows Adriana!!
Myles decides on one final online search for her... there must be some Adriana Dobbs on Facebook or Myspace for sure ....... But Myles comes up empty and with final tap of the 'Delete' button all files and research into one Adriana Dobbs is gone for good. And to celebrate Myles decides to throw a party .. a swinging singles kinda party!!
Myles is quite the host and he rented the hottest spot in town to throw his shindig. All guests were plenty impressed and everyone was having a great time. But Myles just wasn't
feeling
much of a connection with the girls there. Until....
...he spotted Coral Goldbeard....
please be single
please be single
please be single

..................
and yes folks she is SINGLE! Myles wastes no time romancing her... being a great kisser doesn't hurt either.. not to mention practically a town legend.
... and in no time at all Myles pops the question... coincidence she just happens to already be dressed for the occasion! Myles just might have himself a high maintenance wife!
Coral Abernathy, welcome to the family....
Traits -
~Can't Stand Art
~Dramatic
~Daredevil
~Light Sleeper
~Dislikes Children .. (Uh-Oh!)
Her LTW is the same as Myles! Golden Tongue Golden Fingers ~ Reach Level 10 of the Charisma and Music Skills. She's unemployed and Myles already owns a guitar and all three Charisma books, Coral already has a decent amount of friends too so this should be a breeze to complete.
Myles has completed all the goals of the Investigator Career except the 35 Cases... I'm doing 35 Different Cases so it's taking a bit of time.
When he returns home from work one day he gets quite a surprise!....
Coral - 'Babe I've ditched the dress... I'm ready to be your hard rocking, motorcycle mama!'
Myles - 'Doll you look.... HAWT, my Rock and Roll Queen!!'
.....ok guys...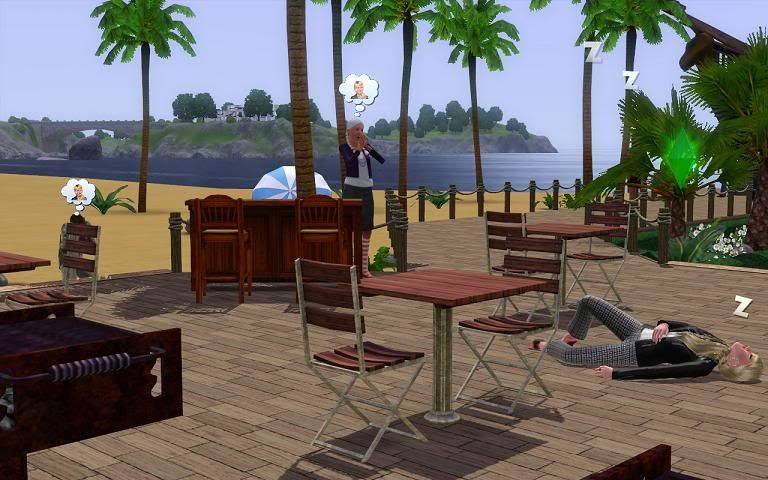 When Coral isn't laying down cords on the ax or practicing her MTV Music Award speech she's out with Myles... her dramatic skills come in handy when Myles needs to distract a suspect.
At home the were the picture of marital bliss.....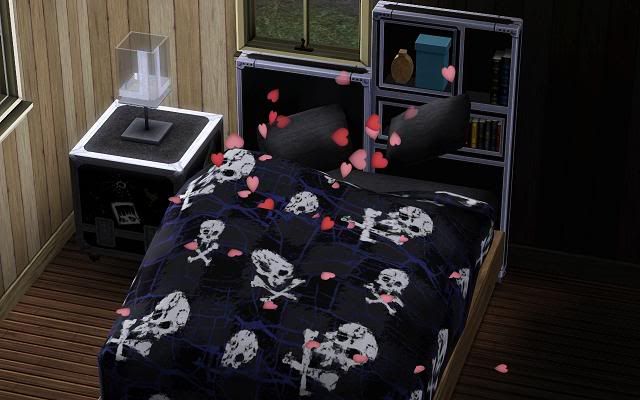 ...and they had a very healthy love life! ... But......
Something was missing, with Myles LTW completed and all but a few cases left before fulfilling
his Career Legacy obligations... Myles was ready for kids. He wanted an heir.. he
needed
an heir!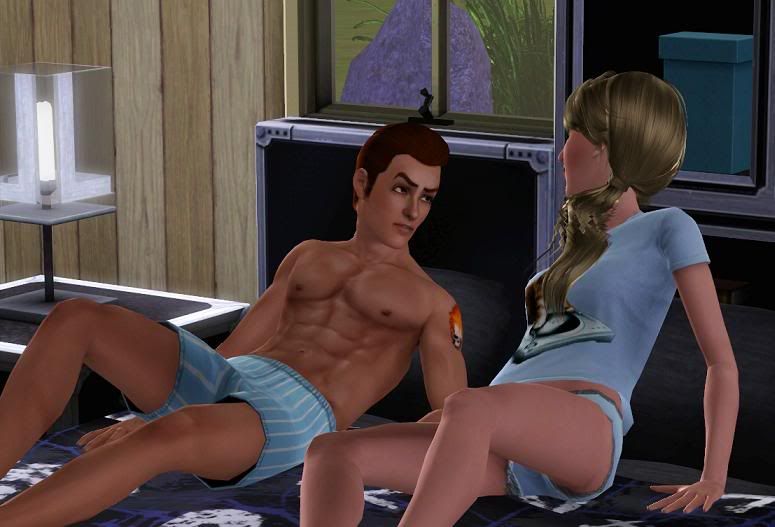 Myles - ' So what do you say babe? I know your not fond of kids, but this would be our kid... look between my cool and your hawtness ... this is going to be one perfect kid! What do you say??'
Coral - 'I must be mad baby, but for you ... let's do it!!'
(it literally took about a dozen tries before Coral actually got pregnant!)
Coral liked the idea of being pregnant, everyone said she glowed.. Myles gave her even more attention than usual.. maybe this whole Mommy thing wasn't going to be as bad as she thought.
As her due date neared Coral found herself more and more apprehensive about the whole thing.. being pregnant was one thing but having the baby.. having to care for it and be responsible... she wasn't sure she was ready for that. Myles however couldn't wait!
Stress finally got the best of Coral and she decided to head out to town. She planned on spoiling herself with lunch out and then a mani-pedi at the local spa.
Whether the heavy lunch or riding around town on The Beast at 9mth preggers, something sent Coral into labor before she could even get her medi-pedi !! The contractions were coming fast... quick someone call 911, or a cab ... something this lady is having a baby!!
But hey, all drama aside Coral had grown into one true motorcycle mama and speed was of the essence so Coral did what any good biker chic would.. she hopped on her hog and blasted to the hospital... who had time to wait for a cab for crying out loud!?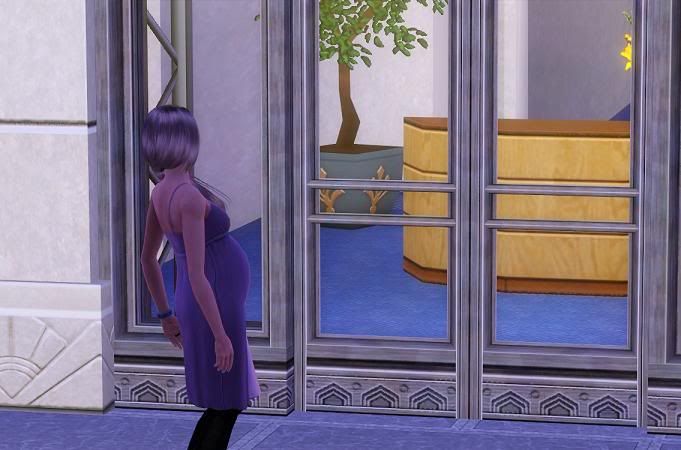 ...hehehe... who was worried? I wasn't worried...
Coral has a bit more sense on the trip home from the hospital.. a little tough to ride a motorcycle with a large baby basket in your lap ... or two! .. you did grab both baskets right Coral???.....!!
Well despite the horrifying scene of the taxi dragging a baby basket all the way home, both girls and Coral made it home safe and sound. Wait until Myles wakes up and sees his TWO new daughters... his new heirs .. Ruby and Rose Abernathy!