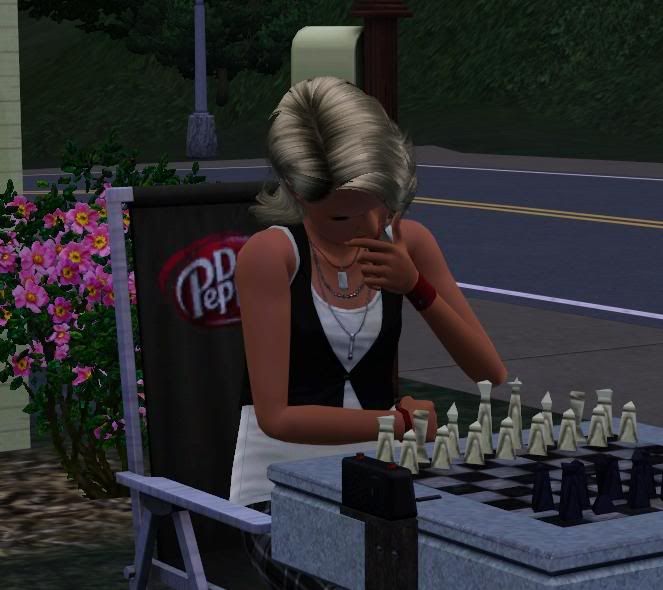 Following a full teen makeover Seteena wastes no time working on her skills to ensure her successful completion of the Inventor Career.
Seteena's traits ~
-Eccentric
-Artistic
-Cowardly
-Clumsy
-Handy
Her Lifetime wish is to be a Stylist but there is no way I'm even attempting that. All traits were chance rolls and her Inventor career was a pick out of a bag (with only three to choose from Inventor, Sculptor and Architect. She just lucked out getting Eccentric and Inventor.
Not long after Pepper completed the Ghost Hunter Career, Johnny met his LTW to be Leader of the Free World. Pepper retired when she reached old age but Johnny kept his job since he didn't really go to work much anyway.
Johnny always encouraged Seteena to study hard and do good in school. Which she did, even though she was really eager to get out of school and start working on her career.
And so for a few Sim years (weeks!) Things were pretty normal at the Abernathy house.
Pepper studied on the side, after her homework was done of course. And the second she was old enough she entered the Inventor Career!
It wasn't all just learning from books either, there was alot of hard physical work gathering up the scrap and raw materials she needed.
Thankfully her parents had made plenty of money during their younger years and Seteena really didn't need to work an outside job. The money she made from inventing wasn't too good at first, but she pretty much spent every waking minute tinkering... barely taking a break to eat, shower and sleep, and before long she was raking in the cash selling Time Machines.
She did have a little bit of spare time for boys though. Of course it was those who came to her not the other way around and if it hadn't been for the repairmen and maids she might not have met any at all. Life was good and looking better!!
........... wait .. what the heck is going on?? Where is Seteena? Where is the inventor bench??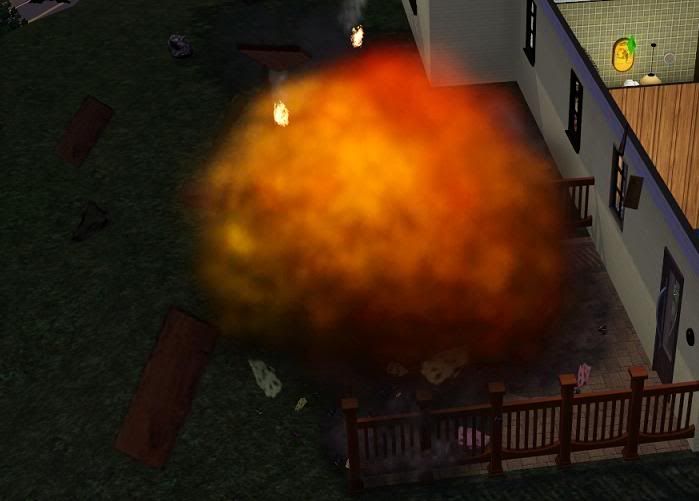 NO! ... are you kidding me?? Really!... now.. NOW ... a meteor decides to invade my game??? NOW after what a year?? .. more!
People are on fire, Pepper is fainting all over the place.. where the hell is Seteena?? anyone see Seteena???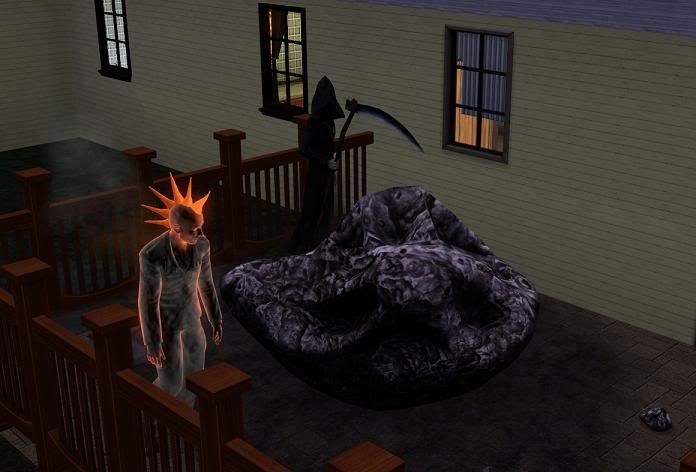 ... and one potential bachelor is off the list.... Hey Grim.. have you seen......
Oh ... great. Well Seteena was well on her way to being a great Inventor so Johnny, stricken with grief... took her ashes to the Science Lab. Being a big honcho in politics has it's rewards... Seteena's remains were reanimated and she returned home to continue her...
after life.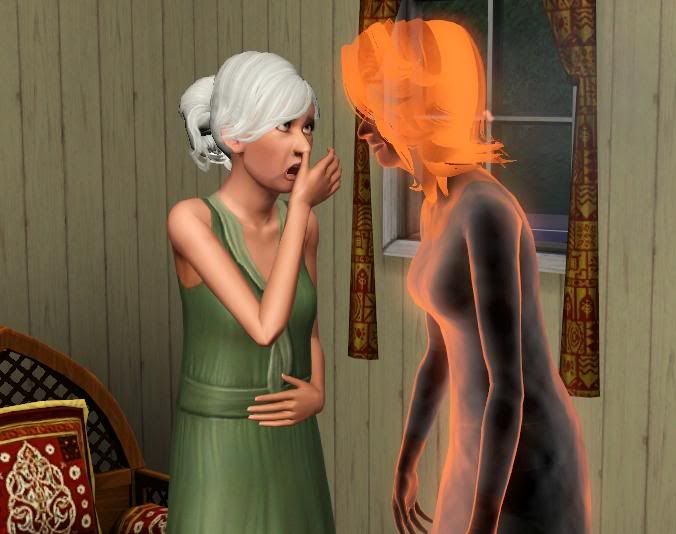 Pepper was having a really hard time living with the ghostly version of her daughter.
Shortly after Seteena's return the stress just got too much for Pepper and she passed away one night following a particularly nasty fainting spell.
Seteena was committed to not letting her current ethereal state rule her. She wanted to be the greatest inventor in Bridgeport and damn it that's what she was going to do! Ghost or not!!
As usual Seteena's father encouraged her, he let her know he was behind her 100% .. after all things can only get better now right. The chances of a meteor hitting in the first place is so ... SO rare!...
Not like
that
could ever happen again.
..... really? ............. really????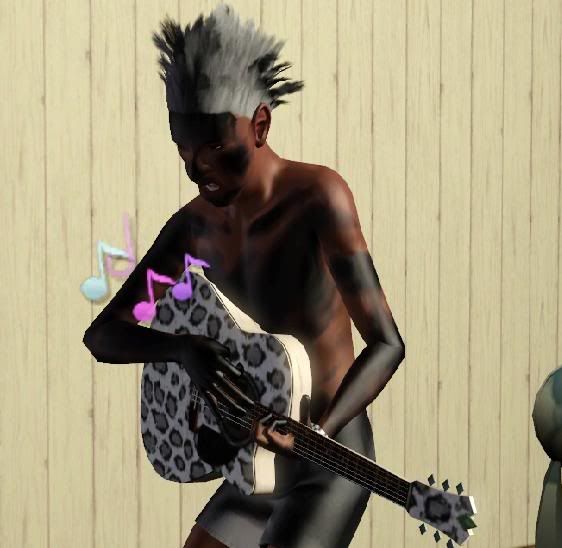 Well at least this time Seteena couldn't be killed. Johnny however suffered some pretty serious injuries. He blew it off as nothing and continued to try and pretend everything was fine.
.. but he too was pretty old (106 days!) .. and shortly after the second meteor crash Johnny cashed in his chips.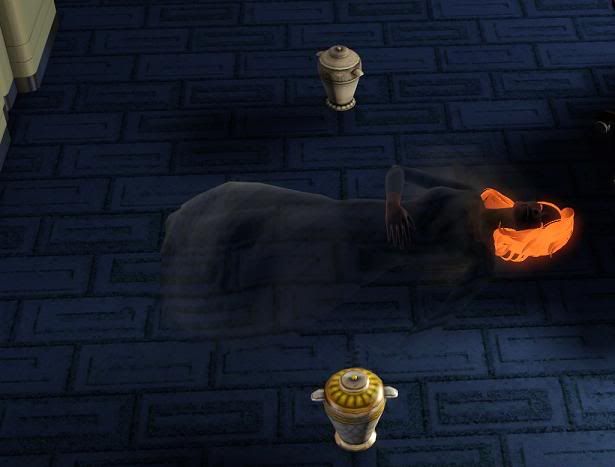 The death of both parents in such a short time triggered a very 'Pepper' like fainting spell in Seteena!!
Alone now Seteena just kept concentrating on her career... scrap collecting, tinkering, inventing and gardening. She'd heard about an inventor who had tried to bring life to one of his creations. She planned to take a trip to China in search of the elements she'd read about to make such a creature.
She also had not given up on the boys... after all she would need an heir! And she was getting pretty close to elder. (What is with all the fainting on this lot?? ) I guess some people just couldnt' deal with a real live ghost in the neighborhood.
Finally she met a guy named Ceasar. He didn't seem to mind her being a ghost and after a short but wild romance she managed to bed him. She wasn't opposed to marriage really but with all the set backs in her life she just wasn't sure she had the time to take on a husband.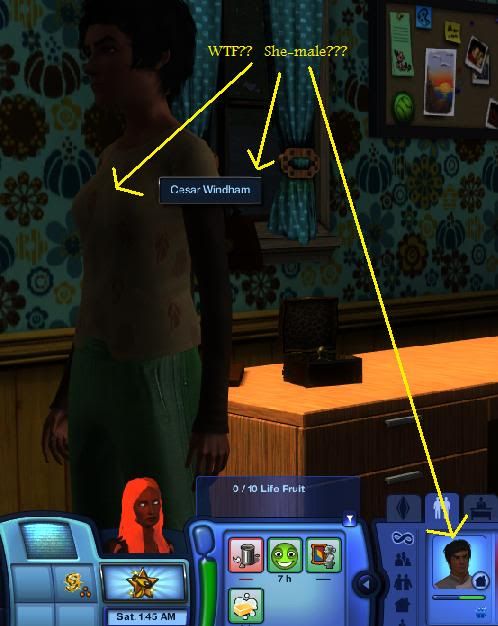 Which turned out to be a good thing because the following morning Seteena saw him getting dressed and was shocked to see BOOBS! Yes boobs... now being a ghost herself Seteena didn't really have any issues with people who were 'different' but she definitely decided that not marrying Ceasar was the right choice!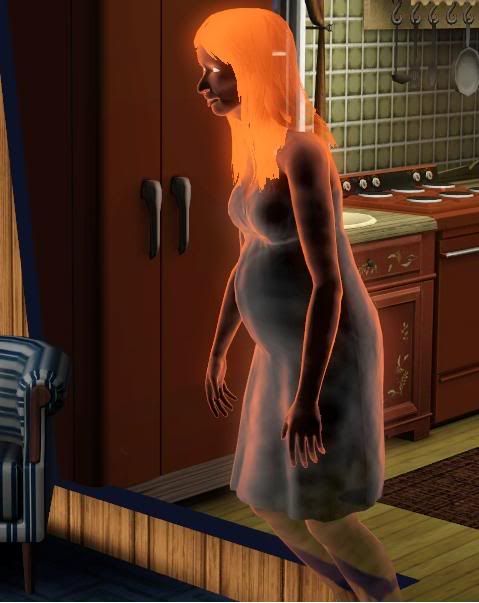 Boobs aside, Ceasar's other parts seemed to have worked just fine!! LOL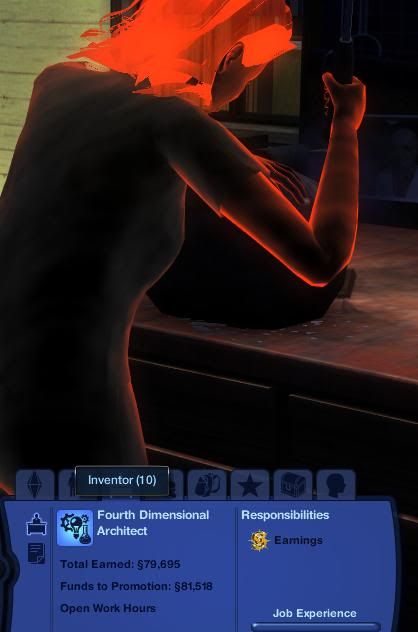 And Seteena kept whacking away at her inventor bench.. though now she was much more watchful for large rocks falling from the sky!! Seteena reaches Lvl 10 in the Inventing Career.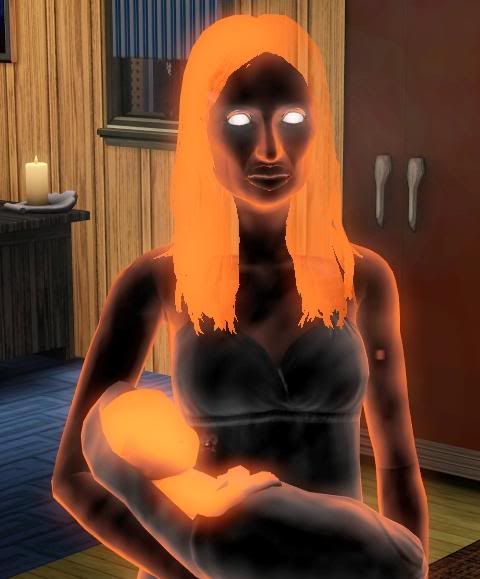 Finally the baby is born. Little Izzy Abernathy. Obviously born a ghost (Ahhh!), Seteena (and myself!) worried how a ghost baby would play into the Abernathy family history and future.
Despite having a baby to raise Seteena was always working towards her true goal.. to make a living machine! She often traveled through time looking for clues. She traveled to China and learned the art of breaking stone in order find rare raw minerals and gems to use in her creation.
She really enjoyed time travel and was a bit shocked when random people started showing up at her house claiming to be her children. Most moved on but one daughter stayed. Trish.. who totally resembled Seteena before she was tragically spirited into her current incarnation.
Trish wound up being a real help. She came from a time when there were no dish washers, no clothes dryers .. no showers or ovens. She was not only willing to help out but she loved helping out. Especially when it came to taking care of her little sister Izzy.
Izzy ages up to a toddler.. with hooker boots apparently!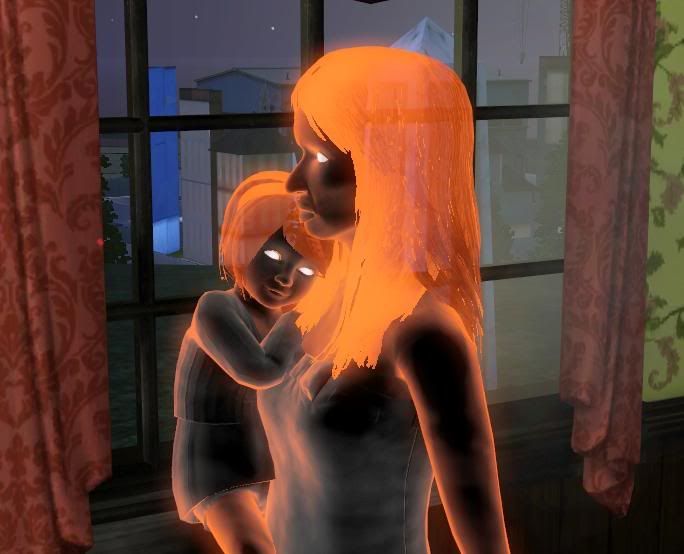 A quick change and Izzy and Seteena settle back into life as usual.
Izzy is Athletic and Friendly and has rolled the Architect Career!
Despite being a ghost she's really a pretty normal little girl.
Seteena continues to have brushes with ... well.... death, if it's possible for the undead to have brushes with death that is. In her frustration to acquire the final ingredient for her living machine .. the heart shaped pink diamond... Seteena has taken on the hobby of blowing stuff up.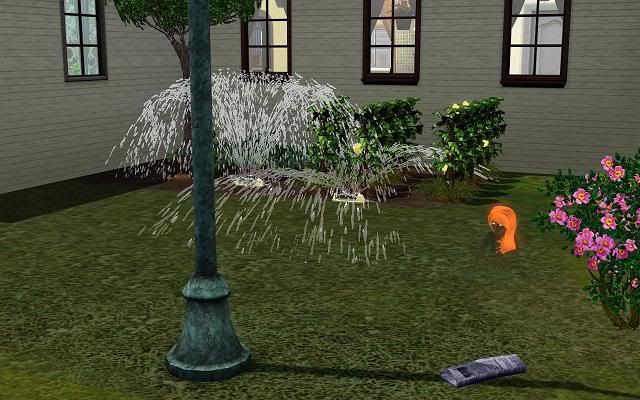 With other ingredients ready and waiting Seteena continues to bust open stones and search the beaches and woodlands of Twinbrook looking for pink diamonds. Izzy seems like she is on her own alot but all in all is a pretty contented child.
Like her mother, the residents of Twinbrook seem very interested in this odd ghostly family and one of the local reporters happens to be on scene when Izzy has her birthday.
**
So having spent her whole life gardening, inventing and busting rocks to get the Life Core in order to make the Simbot a glitch presented itself. It seems that when playing in Bridgeport there is a common glitch with the Life Core where you can do nothing with it. From what I read it's specifically a LN/Bridgeport issue. Following online advice I saved the lot to the library and then deleted my saved town. Opened a brand new town (TwinBrook) and loaded the lot there. I tried having Trish work up to the same level as Seteena hoping she would get the opportunity to build a Simbot but thankfully the move worked and a short time after Seteena became an elder she herself got the opportunity to create the mysterious invention.**
Finally Seteena finds the pink diamond. She sends it out to be cut and on the day the heart shaped pink diamond arrives in her mailbox she instantly goes to work on her new living machine!
It's Alive.. It's Alive!!! And her name is Kaitlin Abernathy. Even though Seteena would love to keep Kaitlin around she realizes that Kaitlin should have a chance at a life of her own and so releases her to join the local community as an individual.
And so we wrap up... by some miracle!, the Inventor Career!
~ Build a Time Machine Check!! (built MANY!)
~ Reach Top of Inventor Career Check!!
~ Build a Robot Check!!
~ Travel in Time At Least Five Times Check!! (tried to also do 'hole adventures' but the game would never give me the option so not sure if you need a special trait to do that)
And with Izzy tagged to take on the Architecture Career that only leaves the Sculptor (and maybe the Super Star) Career before this Challenge is officially finished. :D