Theo's days as an astronaut have come to an end. Such is a Sims Legacy ....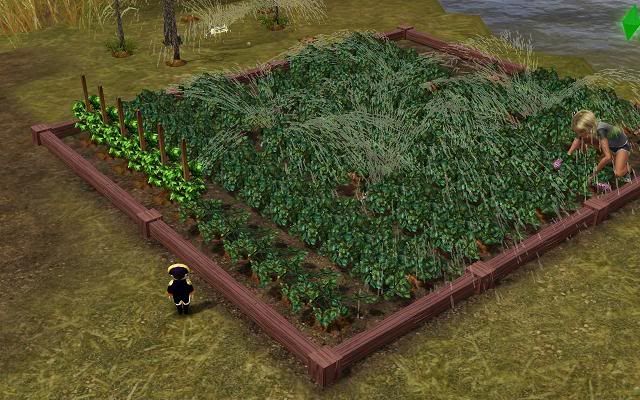 Back at home Endora's Nectar Garden is really looking fantastic, unfortunately it leaves her little time for anything else... garden, nectar, sleep, eat ... repeat!
**I just realized I think I forgot to post Endora's info! . .... so here it is...
LTW - To Be An Astronaut (Military)
Traits - Loner
- Never Nude
- Athletic
- Easily Impressed
- Family Oriented
Those random surprises do side track her at times... like burglars! Endora (and I) really had hoped that the arresting officer had been male, but of course it was a
lady cop.
The only
man
hanging around the house these days is the maid .. or was he the repairman Endora had to keep calling lately? In any case our hired help, Rolando, was the only one around when Nettie passed over to the Great Beyond. Endora's first couple of nights alone were very unnerving and even though she is a bit of a
loner
.. she felt very lonely in the empty house.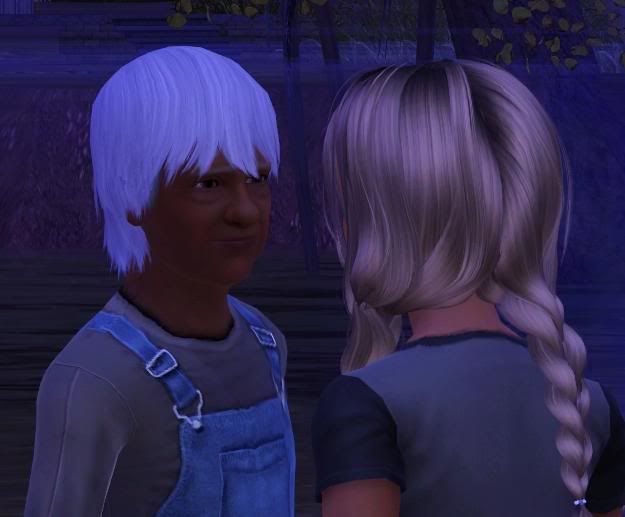 Endora remembered that cute guy she had met at one of her first Nectar Parties.. so she called him up and invited him over... and as usual it was an old guy standing at her door not the young cutie who was at her party. She really wished Sims would be upfront about their true ages!
And the man hunt is on! Endora decided to throw one of her Nectar Parties downtown instead of just at her house. Not only did friends show up but also some new faces who were just walking by as well. Slim pickings in Twinbrook these days when it comes to single men.....
As usual the town was a buzz with gossip about Endora's nectars and parties.. and there was a familiar face in the crowd this time too... Good old (well hopefully NOT that old) Rolando showed up to give his support and of course sample Endora's fabulous nectars.
Endora starting spending more time with Roland... what little free time she had anyway. He became more than just a friend so....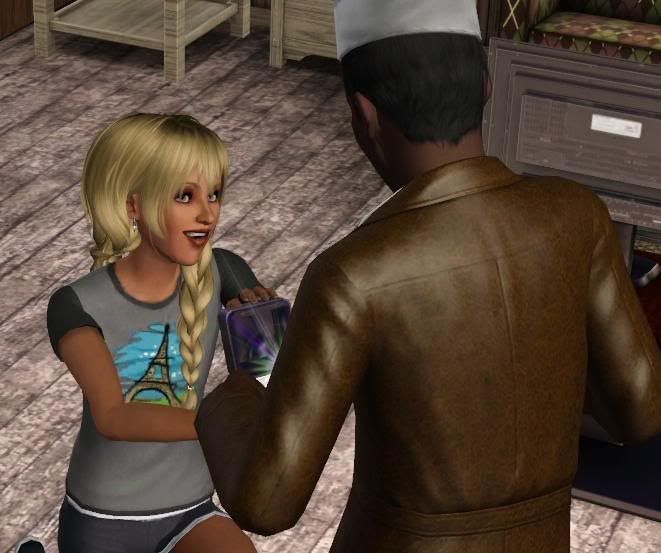 Endora did what any good Legacy Challenge type of sim would do... she proposed. Rolando of course said yes.
Roland (The Maid or Handiman) Abernathy
~ LTW (believe it or not!!) Bottomless Nectar Cellar , Collect 50 bottles of Nectar and have $10,000 worth of Nectar in your cellar. He could not have had a better LTW to pair up with Endora.
~Technophobe
~Handy
~Clumsy
~Party Animal
~Grumpy (though I have never seen him grumpy at all, LOL)
Not only did Rolando help out with the gardening but also it turns out that he has a level 10 in the handiness skill and so was able to upgrade Endora's nectar making machines for her, making her nectars worth even more usual.
And life returns to normal, garden, nectar making and nectar parties. And the occasional
woohoo!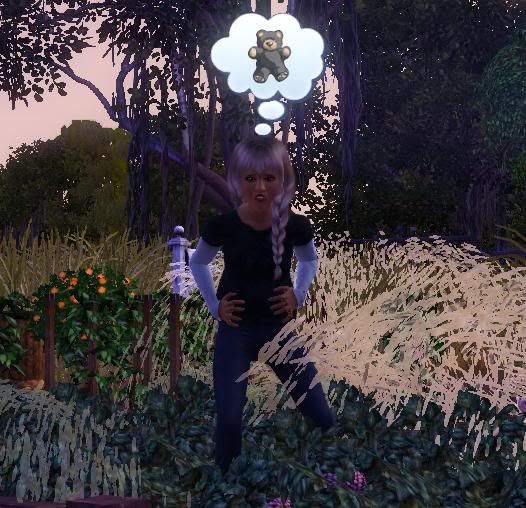 ... and what more appropriate place for our next heir to enter the world but the nectar garden?
Welcome to the Challenge Jasper!! Jasper rolled Easily Impressed and Excitable.
Endora has plugged along and is almost at the top of her career as a Nectar Maker. She even received a nice little reward from the Mayor. Endora's LTW is actually to Become An Astronaut in the Military Career. I'm not sure yet if she will actually be able to do both her Challenge Career and her LTW but we'll see.... she does have a few of those funny flowers hanging around the house.
Our new heir Jasper takes his first steps into heirhood.
Jasper rolled the Gardener Career! ... just like his aunt Agatha.
With her nectar making career almost complete Endora makes a little more time to spend time with Jasper and make sure that he successfully meets all those toddler milestones.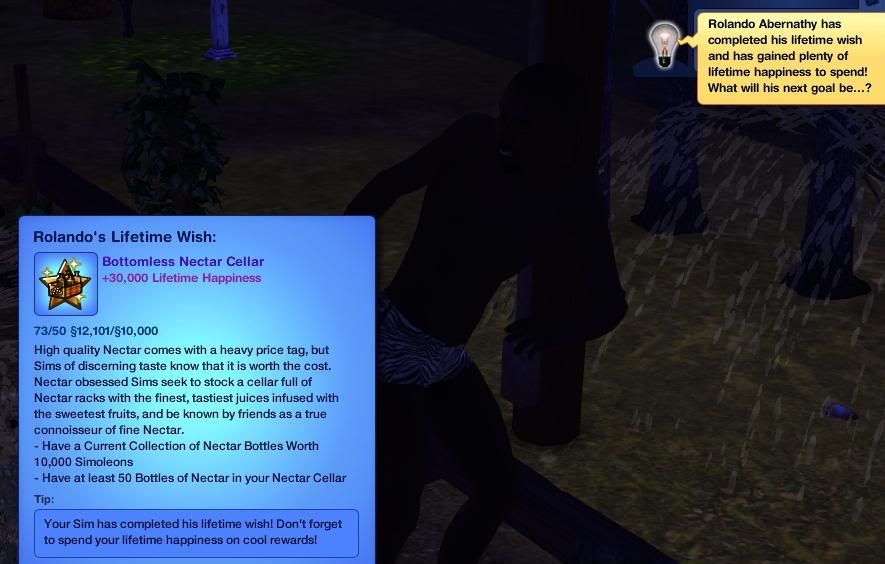 and Rolando's LTW is fulfilled. Endora did most of the work but he did help out with the garden, keeping her machines fine tuned and taking care of little Jasper.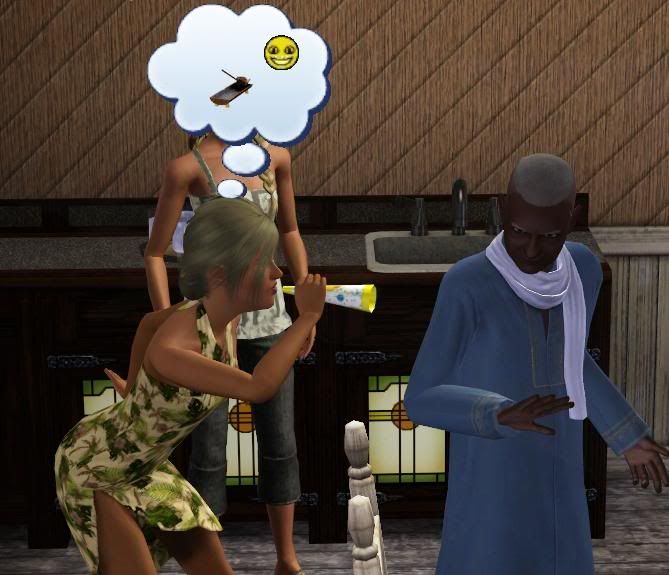 Surprise surprise ... another birthday!!
Rolando - Oh no.. not
the long tunic
!
.... and another birthday....
Jasper's childhood years just
FFlew
by .. he has added Photographer's Eye (child birthday) and Bookworm (teen birthday) to his traits. And now he can finally start working on those Gardening Skills.
Endora has official completed her Career Challenge Goals.
Nectar Maker
- Reach Top Of Career ~ Check!
-Must Get All Grapes From France Until Level 2 In Career ~ Check!
-Must Own 2 Nectar Making Machines By Level 5 ~ Check!
-Must Only Serve Your Nectar At Parties ~ Check!!
*What I did was gather and actually make all my nectar in France. Two visits and then after returning from the second trip she sold all her saved nectar and it took her to level 6.
*I also wasn't sure about the only serving nectar at your parties whether that meant you can only serve nectar (ie no bar) or that you can only serve your nectar
if
you have a party.. So, .. I just made Endora throw a party once a week and served her nectar then. :)
...now off to boot camp for Endora??