Last we left the Abernathy household our surprise heir Greta had perished in a terrible inventing accident... 'Mother of the Year' Ami had died trying to fix the Time Machine. Jasper just continued to play in the past and future, not wanting to deal with his garden anymore, and young Gage took the reins, stepping up to be our current Challenge heir. Now an adult Gage's Traits are ...
~Virtuoso
~Brave
~Grumpy
~Good Kisser .. he only has the 4 traits because of the whole 'why can't I register as a self employed painter issue I accidentally aged him up early to YA and I guess that cost me a trait... I was going to fix it but then decided to just leave it since I messed up last time and the lot is getting glitchy.
And so Gage enters the Painting Career... and ... well he paints.. he paints all the time! That's all he does is paint....
I forced him to call one of the girls he met on one of his only nights out on the town, when he went out to the Bistro and a movie. I mostly picked her because I loved the name.. Trinity Thorn! I was hoping to find a red head but no such luck in my town... sigh. Everyone is starting to look the same!
Anyway, you know the routine by now... flirt, kiss, engagement, marriage..... woohoo ...
Though Gage and Trinity certainly don't bring out my 'luv 'em' feelings they do make a cute couple ... and hopefully a cute new heir!
Trinity - LTW Culinary Librarian 'Learn Every Recipe'
Traits - Hates The Outdoors, Disciplined, Natural Cook, Inappropriate, and Clumsy
Trinity's first night at the house and suddenly I saw the red dagger in Gage's emotions thing... I thought what the heck happened? No one else was mad but socials kept giving me the 'apologize' option for Trinity and Gage's Dad Jasper, so I'm thinking she must have tried flirting or something, LOL. Needless to say with over $500,000 cash on hand Trinity can just spend her days reading, buying all the recipe books and cooking ... she made her LTW in very little time.
.......and Gage paints............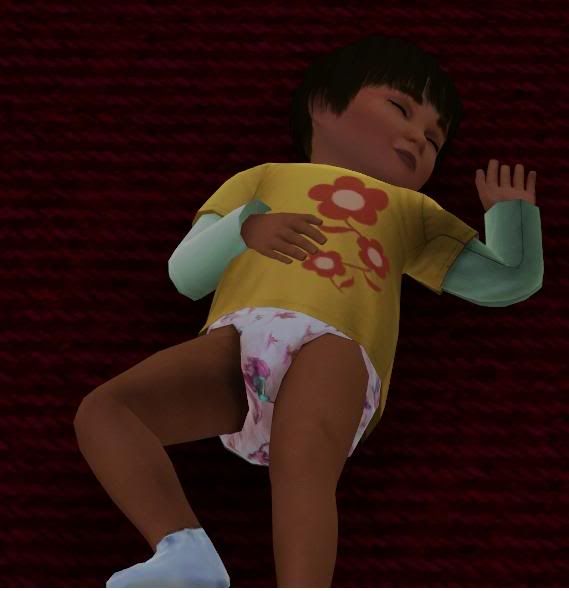 In the midst of all the painting and reading they did manage to present us with our next heir.
Challenge meet Myles. Myles is Eccentric and Insane (Oh boy!) and I rolled the 'Author' Career for him. I also passed on Gage's Deathflower (from Jasper's Challenge) over to his inventory.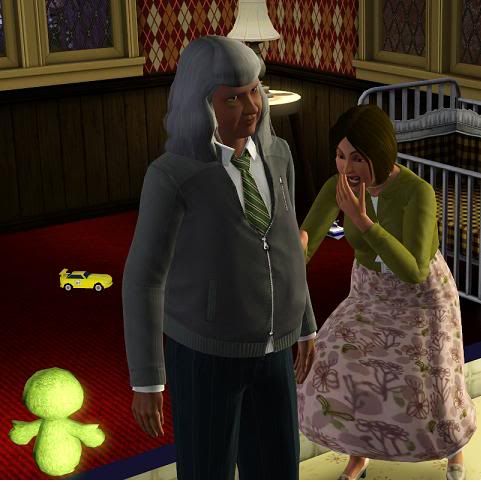 Gage ages up ... Trinity finds his new look hysterical... I decided to leave it because I found it funny as well. LOL
And we keep painting... we have however finally made it to the top of the Painting Career. Somehow in the blur of painting and reading I missed the actual notice letting me know he had reached "Master of the Brush".
But he still needs to fulfill the other requirements of the challenge so... back the easels Gage!
As I said... lot is getting glitchy and I'm thinking it's time to move out Myles into his own place when he's old enough.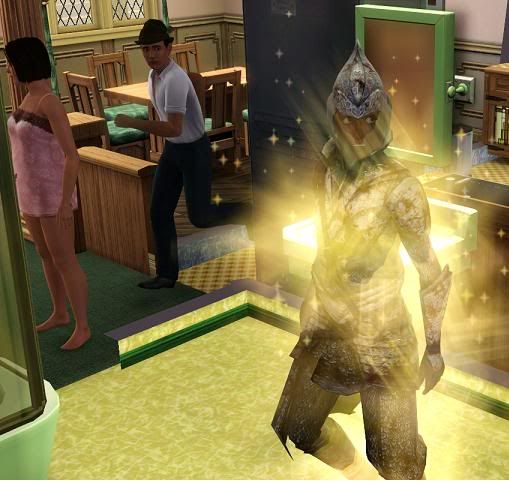 Jasper finally passes... he lived well over a hundred and I was beginning to wonder if he was glitched as well! Into the Time Stream Jasper.
...and as things move FForward in the house Trinity also ages into an elder... Ha .. not so funny when it's you is it girl!?
Young Stephen King.. I mean .. Myles has aged up as well.
And luckily he isn't afraid of all the ghosts running around... and Ami suddenly had time for children!
Well Gage has finally completed his Career Goals!
Painter
-Reach Top of Painting Career ~Check!
-Sell at Least 10 Masterpieces ~Check!
-Own at Least 3 Easels and have Paintings Going at all time ~ Check!
-Paint Portraits of Every Person In Your Household ....
~ Check!
~ Check!
~ and Check!
And so we leave the family with Myles having entered the turbulent teen years. He's registered as a self employed author and wastes no time pushing out those books .. and scoping the neighborhood for a new house!