And so our 10th Generation Heir in this challenge ages up to Young Adult... Apparently all that 'cool' in school somehow transferred to the game because this is outfit he spun into all on his own! LOL
Like step-Sis Tenielle, Myles Jr. wasted no time moving out. He used the money he earned from his part time job to buy a house and a sweet ride. Sure he's now penniless but he's his own man, and his own boss.
Myles Jr. Traits -
~Artistic
~Heavy Sleeper
~Hot Headed
~Over Emotional
~Great Kisser
His LTW is Golden Tongue Golden Fingers ... Max Charisma and Music Skills.
Myles registers to be an Investigator!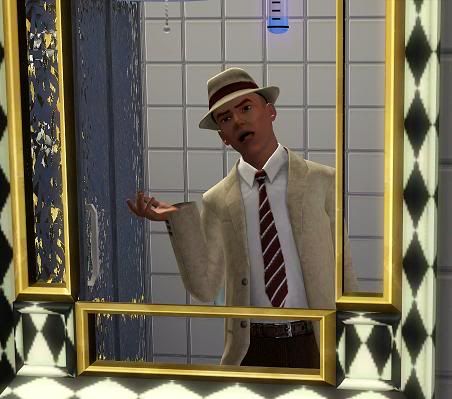 Quite the contrast from his cool dude duds but Myles wears his
uniform
with pride. He also wastes no time fine tuning his smooth talking skills, it's one thing to talk up the girls in high school, compared to criminal suspects and scared witnesses.
But fret not, Myles keeps his cool fine tuned a few times a week when he hauls out his guitar, his leather jacket and woos
The Beast
with tender tunes.
He also wasted no time hitting up the local hot spot... it was time to at least have a main squeeze to rat around town with.
Hmmmm,.... 'where all the chics at??'
Ahh well, back to work, the way Myles phone has been ringing off the hook he hardly has time for girls anyway... besides once he's more established in town and word gets around about his coolness he'll probably have the girls come looking for him!
Being an investigator turned out to be a dirty job ... poking around in the trash, snooping in people's mailboxes and houses .... not really the glory job they made it seem to be in all those crime mysteries he read as a kid. But it paid the bills and the dirt on townies was pretty interesting.
Hmmmm, .... he found some women folk in the park one day... they are related and both have toddlers. (*at this point I really started to wonder what was up with townies and instant toddlers/relationships when before there were none) ... nice enough ladies but where the hell are the single girls!?
Maybe this was a mystery in and of itself .... so Myles decided to really check out the town and see what was up.
Hey Randi Fisher ... Myles remembered her Mom Claire Fisher, met her when he was a teen, worked for the military, he didn't realize she had a daughter, he didn't remember Randi in school. Oh well, she was a cutie, and he knew they must be about the same age so he asked her if she would like to go have lunch with him...
Randi - 'Sorry I'm in a relationship'
... hmmmm..... Do YOU have a toddler too?
A little detour to deliver some case information to a client... have to keep the wealthy clients happy.
Ok Myles heads over to the park another day on his constant chic hunt .... What is this? Only old people? Weird. Ok whatever, case work waits for no one.
...so the next day Myles heads back through the park .... Seriously?? More OLD people??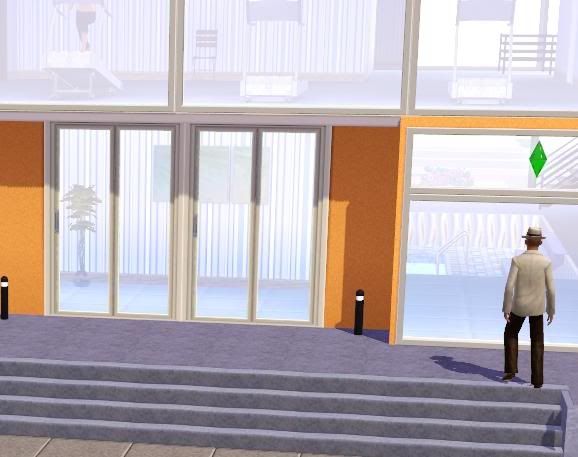 Myles decides to head to the one place he figures the ladies... the YOUNGER ladies might be flocking to, ... the Gym. He sees female legs in the window, but who knows who they belong to.
Ahhh, success, no white hair!
Myles - " so hey, I'm the new investigator in town, what's your name?'
Stranger - "why? .. am I under investigation?"
Myles - " no no of course not, I was just walking by and couldn't help noticing the most stunning set of lady legs in the window so I thought....'
Stranger - " Ummm yeah, well the names Serena Abe and I have a husband so beat it"
Myles also meets Adriana Dobbs ... she's a tad paranoid about the towns Science Center and hopes Myles will keep an eye on their freaky experiments. Sadly she's only a teen, though Myles does take down her name... hey she'll be an adult one day, and Myles isn't 'that' much older.
Yep that's Myles Sr. on the treadmill.
Ahhh, one more prospect before Myles heads out of the gym... Daisy Annan ... yep ... she too is married.
............ Sigh ............ What is in the water in this town, maybe Adriana was on to something about the Science Center.
Ok what the heck. Myles actually knows Moe from the police station sooooo, is Moe
under cover
as an elderly doctor or what? (* at this point I decided to remove Twallan's mod since I didn't really notice any game enhancements and couldn't figure out what was going on with all the old coots in town! LOL )
Myles was so distracted with all the oddness in town that he accidentally burned dinner and started a small fire.
He had it under control but a fire
lady
showed up anyway. She seemed pretty annoyed that the fire was already out though. Myles apologized and then, typical Myles, tried to sweet talk her. He invited her over the next day at which time he found out that Winter Tyson was actually SINGLE!! Now so long as she isn't 3 days from going gray we might have a viable spouse candidate.
All this running around town looking for ladies and trying to figure out why there is so many old folks really put Myles behind at work. He had to put off personal interests for awhile and really concentrate on his clients and cases.
He was really learning alot and getting more interesting cases.
...so Myles worked.....
.... and worked..... His cases were requiring him to take more and more risks. He sort of liked that!
During one particularly boring stakeout concerning the Science Labs meddling with local produce production Myles spotted his step-sis Tenielle meeting some old guy from a local restaurant ... what did she know?
After a couple weeks of straight non-stop working Myles found himself at the park again. He's noticing a few less
white hairs
around town and even ran into a friend .... Adriana Dobbs .. she seemed much less paranoid and really interested to hear about Myles musical talents .... she also was now a Young Adult and also.... SINGLE!
....Will Myles ever figure out what was up with all the elderly townies?? ... Will he finally settle down?? ............Where did the town get it's produce? There was only one farm in town and they grew no veggies or fruits at all... was the Science Center providing all the produce in town?? What sort of place was this Barnacle Bay anyway??