As Ami and Jasper stagger on into their golden sim years, Ami seems to be quite the fire bug.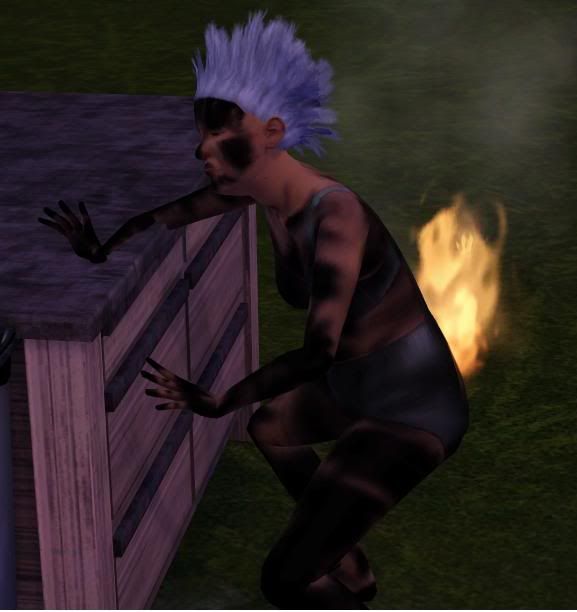 Suprise, surprise ....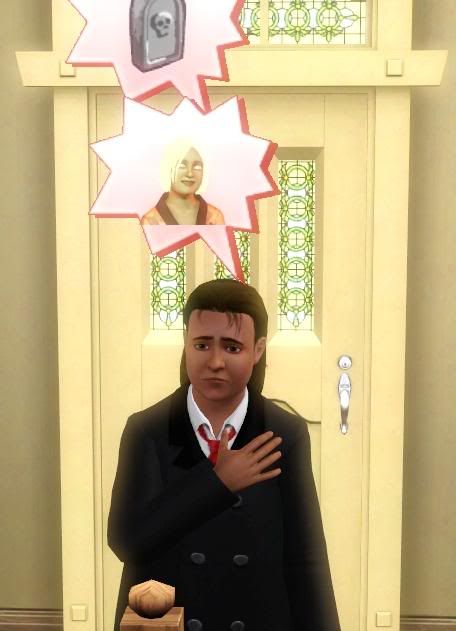 Of course there is nothing like the doom and gloom of death to inspire a talented writer!
Jasper however wasn't as inspired by Ami's passing and decided he just couldn't bear staying in the house one day longer. Besides he'd heard on the internet about this really cool town called Barnacle Bay...he was tired of the mist and clone people running around Twinbrook lately and so he sold everything and decided to move away... on his scooter.... after giving Myles some cab money!
Being rather wealthy at this point in time Jasper bought an expensive house, site unseen, on a private little island. It wasn't until after the purchase that he was informed of the 'ghost problem'. Good thing the local ghost hunter came by that afternoon to introduce himself.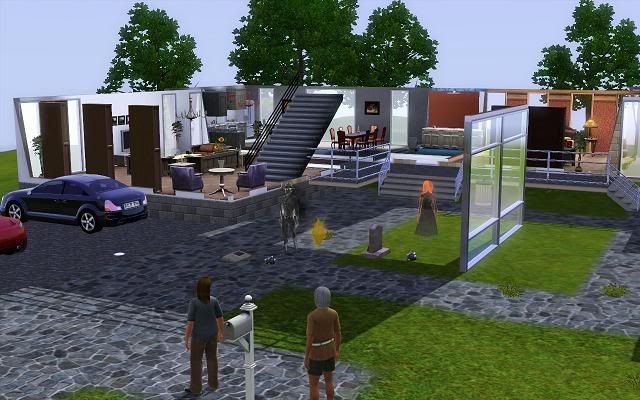 The house was big... too big really. The modern style was nice but the rooms were all over the place and stairs leading up and down to bedrooms not even attached to the rest of the house. Some reconstructing was certainly in order.... just as soon as the ghosts were gone that is.
The ghost issue really wasn't much of an issue... the local Ghost Hunter came and cleared them all out in one evening.
So hearing so much about this wonderful town, Myles decided to set off and explore. After all finding wives of child bearing years isn't always as easy as one might think. Myles did find quite a few interesting and lovely women in Barnacle Bay... even a REDHEAD! Her name was Nina Caliente, and boy was she a flirt!
Her and Myles really hit it off, however she always kept their relationship cool until one day when some guy happened to see Myles and her flirting... he wasn't real happy about it and after his little outburst Nina announced that she was ready for a more committed relationship with Myles.
Following several sleep overs and two turned down engagement sessions, Myles and Nina finally tied the knot. Of course it wasn't until after the marriage that Nina announced that she had a child from another guy. Myles invited little Tenielle to move in as well... though it was odd that her last name was already 'Abernathy' even though Myles was obviously not the father. It wasn't until later that Myles found out Nina actually had yet another two children by two different guys still at her sisters house. What a hussy!
Woohooing ensued as usual and plans to turn the exercise room into a nursery were underway. Because as much as he opened his home to Nina's other child he did want children of his own as well.
This has nothing to do with the story or challenge but I found it funny that 'Dude' was promoted to Roadie given his name and looks. (From Twallan's mod... which is where I think all of Nina's children came from as well!! ... one day she has none a couple days later she has 3??)
Despite recent bouts of morning sickness Nina can't help but swoon over Myles sexy PJ ensemble!
Jasper seems to be the one doing most of the child care. Nina is always too busy doing other things. Luckily Jasper loves his new granddaughter Tenielle even if she isn't going to carry on the Abernathy Legacy.
The new maid is really creepy!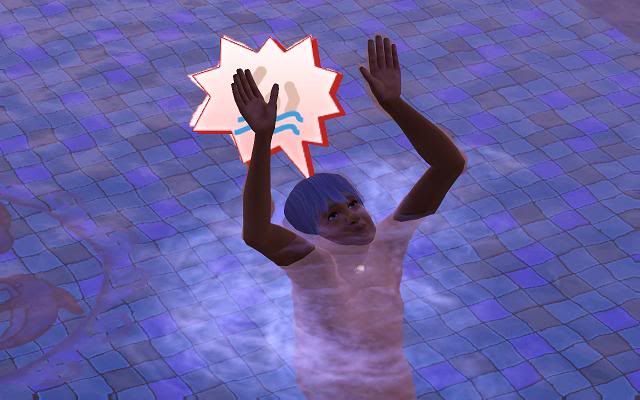 ...never swim alone .... late at night when everyone is asleep....
...farewell Jasper!
Jasper's death really has Nina worried... who will help her now with caring for Tenielle... never mind a new baby as well?? Good thing she has a babysitter set on speed dial.
Another 'funny' I found after installing Twallan's Mod... apparently Nina is friends with her crappy car! LOL Nina's LTW is also to have 20 Friends which she nearly had by the time Myles married her so it really didn't take too long for her meeting this goal.
Nina's Traits
- Commitment Issues
- Hot Headed
- Mooch
- Childish
- Flirty
Nina works part time at the Spa, other than that she's either on the phone or chatting on the computer.
Myles spends most of his day behind the computer... tapping out those books.
His LTW is to be a Professional Author - Earn $4000 a week in royalties. Although he has reached his LTW he is still only at level 7 in the Writing Career itself.
Tenielle has aged up nicely ...apparently she is quite a 'loser' though and disaster just seems to follow her everywhere. But she's a good student and tries to help out with her brothers .. oh yeah... the brothers....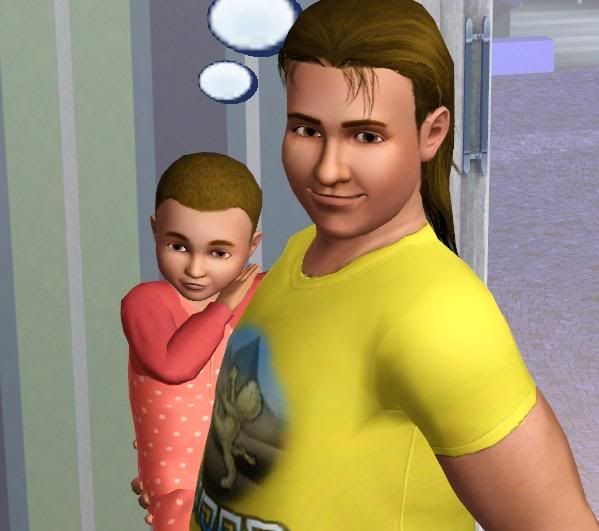 Well Nina is quite the Fertile Myrtle ... she gave birth to twins ....
This is Holland ... I rolled Sculptor for his Career and his traits are..
- Grumpy
- Heavy Sleeper
..and this is Myles Jr. (and the cute babysitter who Tenielle is crushing on!) For him I rolled the Detective Career. Myles Jr. traits are
- Artistic
- Heavy Sleeper
I'll roll odds/even later to determine which twin will carry on the challenge.
Jasper made a ghostly appearance and none too soon since Myles had to choose a genre for his writing career, and horror and ghost stories were what Myles excelled at ... so he chose "Fiction" which actually doesn't pay much per book.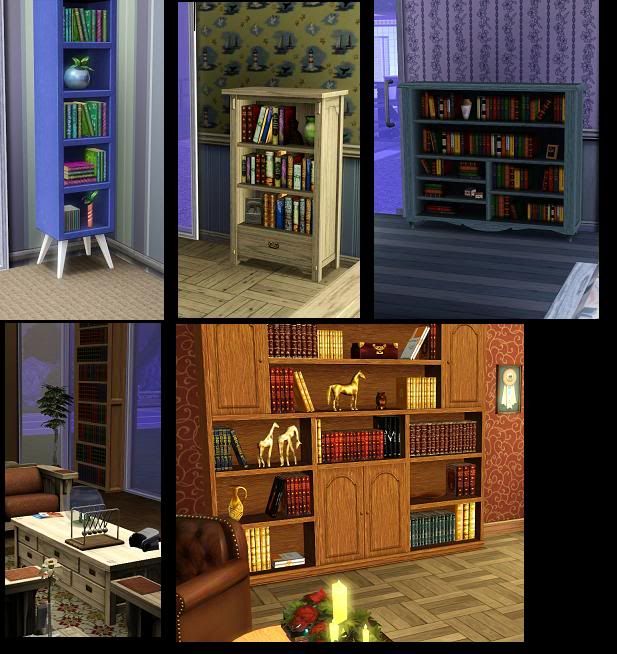 Having written so many books however has helped with fulfilling one area of the challenge... filling every bookshelf in every bedroom and living room ...(and study!)
Myles Jr. (the red head) and Holland (blue sweater) have aged up to children. After rolling the dice it looks like Myles Jr. will be our next heir ... he's added Hot Headed to his traits, while Holland has added Grumpy to his. I'm not sure what sort of detective Myles Jr. will make but it should be a fun way to meet the locals here in Barnacle Bay.