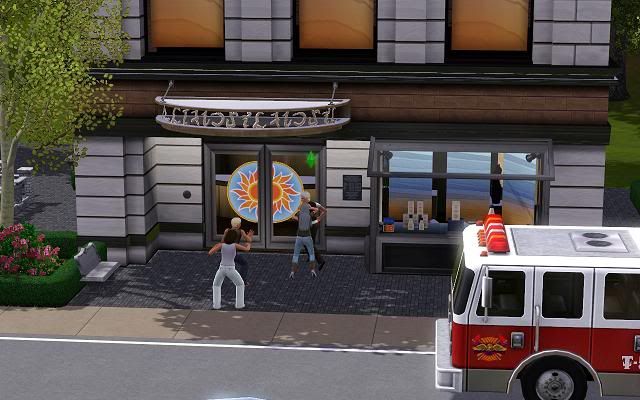 If it's not gas leaks it's giant mutant plant attacks.... It's a good thing our local hero is around to save the day.... again.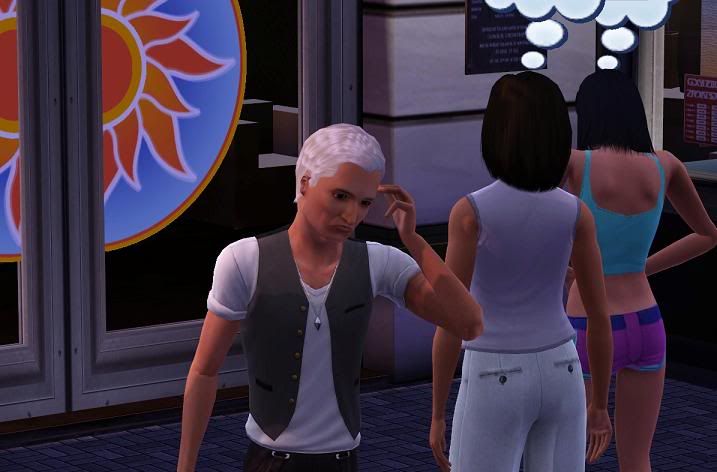 Seriously though, mutant plant attack? ... Leo thinks maybe someone was messing around with the herbal teas or something because he found no mutant plants.
Now this is a real situation... you'd think people would know better than to mess with Mother Nature these days but the criminal element in Twinbrooks thought they could handle it. At least this disaster is exciting... racing storm clouds, lighting, floods!!
Unfortunately, Leo couldn't save everyone that day. Shark has passed on and no one was around. Lucas was in school, Leo was battling the elements and Chana was busy climbing that corporate ladder.
At least now Shark and Mallory are together in the family plot, both lived long happy lives. Leo realizes that he spends an awful lot of time away from home and his family. Tomorrow ... tomorrow he would make more time for his family... plan some quality time with his son and wife...
...yep quality time... right after he deals with several houses and casualties from that nights Earthquake !!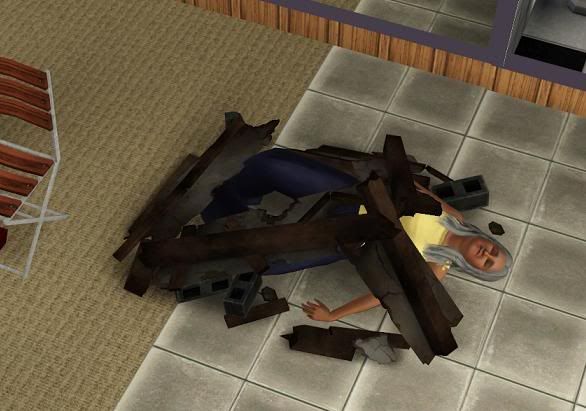 By the time the last sim was pulled from the debris left by the towns first quake Leo had already forgotten his plan to slow down and spend more time with family. The town needed him.
And the town was more than happy to show how much they needed and loved their local hero. Leo single handedly saved 3 homes and 7 sims that day. The Mayor presented Leo with a Key to the City and his own Fan Page on Facebook!
Leo felt so proud... he was well on his way to fulfilling his lifetime wish. He really was a hero.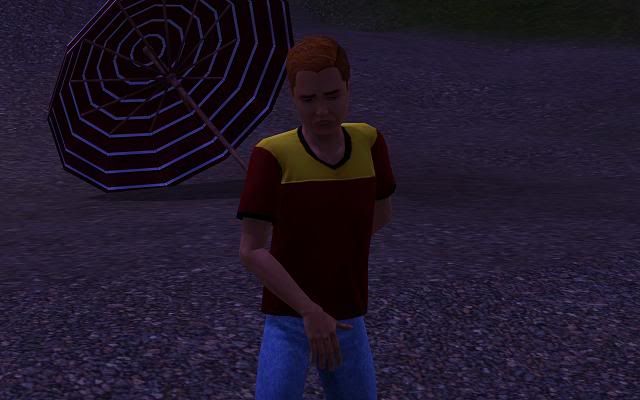 As usual though, he missed out on some other important moments ... like Lucas celebrating his birthday, alone. First grandma Mallory passes right before his last birthday and now grandpa Shark passes right before Lucas becomes a teen. Life's just not fair and Lucas is handed the trait ~ Heavy Sleeper~ by the Sim Gods that be. I'm not sure what other attributes the Gods may have blessed (or cursed) him with... though he did seem to check his junk more than a couple of times that night.
Now that grandpa Shark was gone Lucas fished mostly alone. He barely kept up with his school work and slipped away every evening after doing (most) of his homework. Leo and Chana are usually too tired to notice whether Lucas is home or not.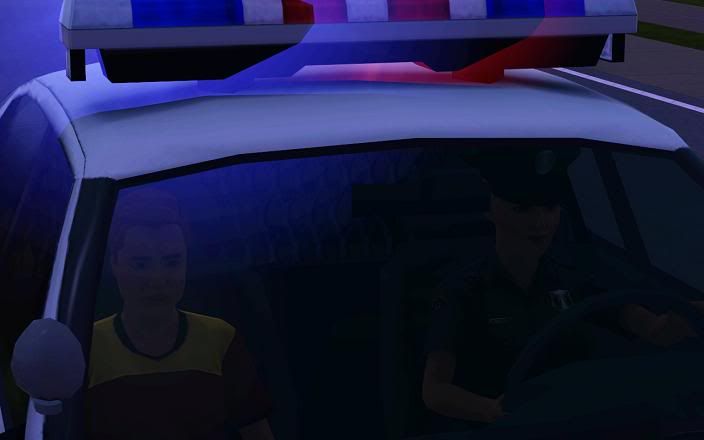 And so Lucas learns that staying out after curfew can get you in big trouble .. he's also weirded out that this lady cop looks an awful lot like their maid!!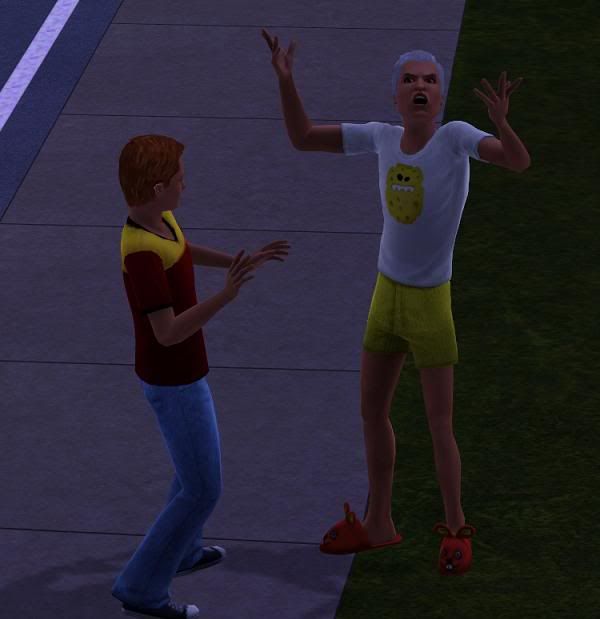 Leo was none too happy about his son getting a reputation in town, or the gossip that might get around that HIS son was brought home by the police! So he laid down the law, no more night fishing at the beach! Lucas pretended to be sorry but it's kind of hard to take someone wearing bunny slippers seriously.
Besides, Lucas did as his father asked and stopped going to the beach to fish after dark... he went to the local Cemetery instead. Fishing here was a little sweeter knowing that his father seemed deathly afraid to step foot in the place .. something about some girl he'd heard.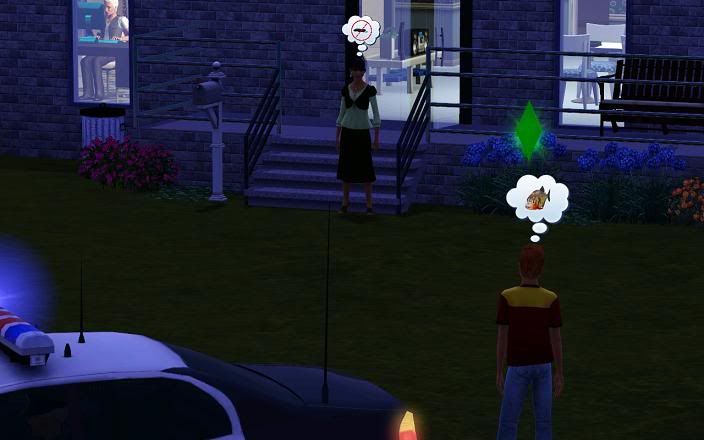 But the police patrol the cemetery the same as the beach and Lucas was once again caught out after hours. This was not going to go over well with Dad... he'd be on lock down for sure. Lucas was relieved that it was his mom Chana who came out to accept custody from the lady cop.
... and Mom put Lucas on lock down! So much for her going easier on him than his Dad. She gave the usual speech about growing up and following the rules. They had a pond in the yard, use it.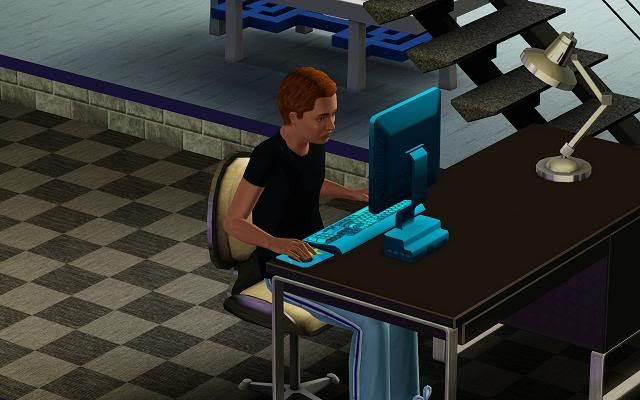 So Lucas decided to put all his effort into the one thing he loved. Fishing. It wasn't just a past time if you actually made it your Career right? And so after a little research Lucas learned you could register at the Town Hall for a Self Employed Fisherman license. And that's just what he did.
He still snuck out on occasion. He loved being outside and living off the land. He was sure to keep track of the time now though and get home before the police started their late night patrol.
...of course fishing wasn't all that Lucas thought about ...............