..ummm, for some reason Blogger isn't listing my first post/blog for this challenge so I had to Update with a whole new blog.
Just to recap... Leo Abernathy is my first heir in this Challenge.. second generation. He rolled Firefighter for a career as a toddler and his traits are,
- Disciplined
- Easily Impressed
- Artistic
- Genius
.... and thankfully the last randomized Trait he recieved when aging to a Young Adult was actually
- Brave! Not sure if it's needed for the firefighter career but I'm thinking it sure won't hurt.
Leo rises bright and early for his first offical day of work. He can't wait bust in doors and rescue people!
He's ready and waiting outside for his ride to work, some hot blonde ... could this job be any better!?
Apparently it could... most of the day is spent doing maintenance to the truck and alarm systems. Not exactly the exciting life of a firefighter.
...but you can't go to a fire if the alarms aren't working ... right?
It isn't long before Leo gets his wish. The alarms go off as soon as Leo finishes tweaking them ... running to the fire however was a bit of a surprise.
Now this is more like it!! The rush, the adrenalin, ... ....... the soot.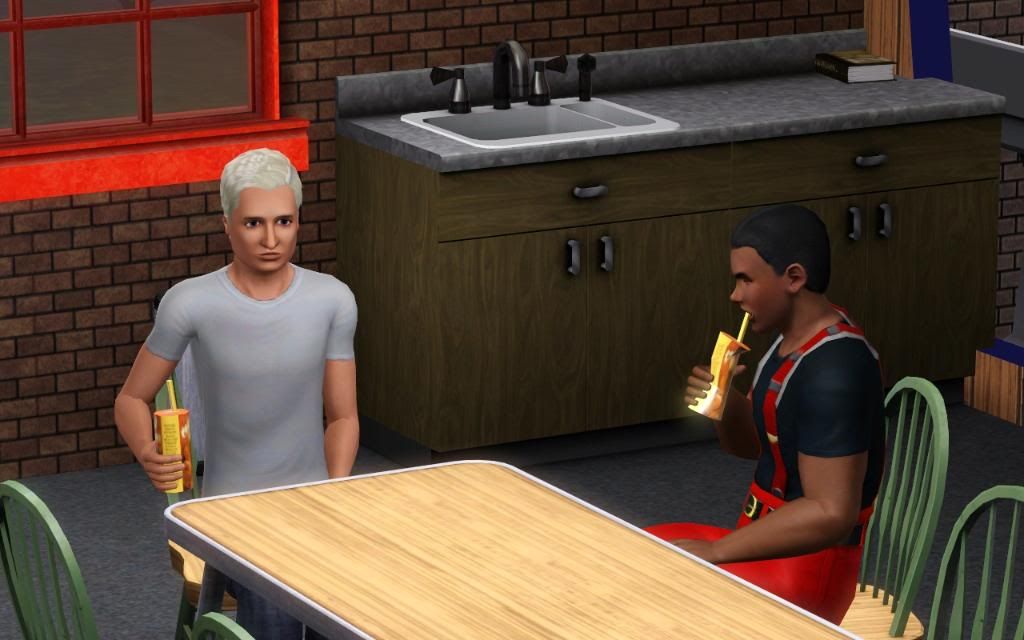 The risky life of a firefighter isn't all rush and drama though... Leo is making friends, like Notzo Curious. The fire station is also a pretty sweet pad. With all the luxuries of home plus some cool perks like a work out room and trampoline why go home? If the beds were a bit more comfy Leo would probably move right in.
Mallory is constantly asking about grandkids. Leo isn't sure he cares to rush into a relationship just yet.. he's having too much fun hanging at the fire house, being his own man. No real responsibilities other than concentrating on his career. Add a wife to the mix and it's sure to mess things up. Besides his parents aren't 'that old'.
...ok maybe they are a little old.... Seeing his Dad age up makes Leo realize that there is more to a sims life than just work work work. So he decides to give Notzo's sister a call, Notzo says she's a hottie.
Ok Bunny is a bit different, but she is kind of cute. Leo offers to take her to the movies but she seems to have other plans. Namely Catacomb Exploring at the local cemetery. Leo is a bit freaked but heck, he's a brave firefighter right... nothing to be afraid of.
Upon arriving at Twinbrooks cemetery it occures to Leo that it's actually full of dead people... what he sees a ghost?... or a zombie??? Fires are one thing... monsters and ghosts are another.
Before he can get the words 'Let's go eat at the diner instead' out Bunny has disappeared down the the Tomb steps leading to the Catacombs and Leo has no choice but follow her. After all he doesn't need word getting around the station that he's chicken.
Ok, screw this ... Leo's done.. toast ... he doesn't care what they say at the station he is done with the cemetery, done with the catacombs and done with Bunny.
After all there are plenty of other Sim ladies in town.. and with a new promotion and ranking at the station he should have no problem snagging one!