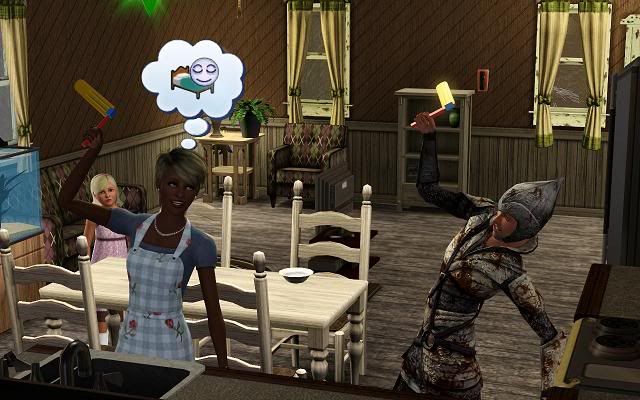 It's Birthday time again at the Abernathy house. Carrie welcomes (sort of ) the next stage of life. Though we are both concerned about her being able to reach her LTW as Leader of the Free World. She has just reached Level 6. Thankfully Travis, having pretty much retired after reaching Level 10 in the Photography Career, will be around to help raise the girls.
Yeah Carrie, I'm not real thrilled with that 'look' either... Make over time!
..Of course a makeover will have to wait until after the nights second birthday. It's time for Nettie to leave behind the Panda Boots and embark on that wonderful and angst ridden adventure in life we call the Teen Years!! LOL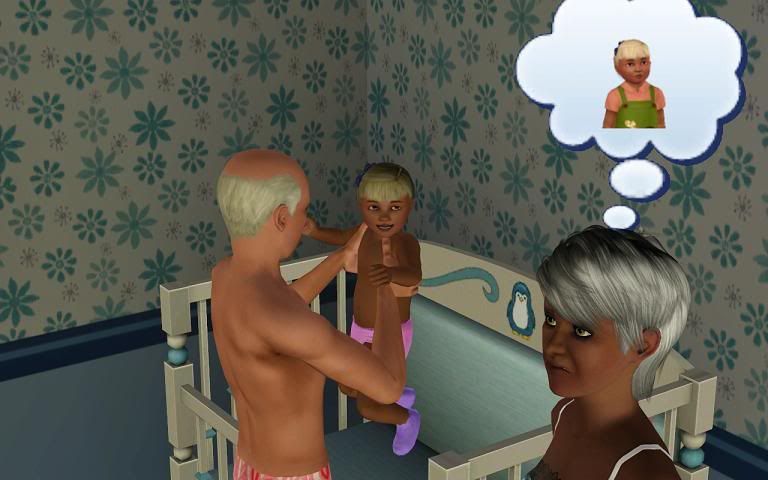 Carrie rushes off to the bathroom to trim her unruly
elder
hair to something more chic and professional.. basically her same old style. No coloring though, best to let her age show... not only to remind those at work that she didn't' have much time to scale the professional ladder but also to remind those pesky young interns that seniority counts. Carrie and I also hadn't noticed Travis' .. ummm... hair issue. He's always wearing that damn helmet, gives a new meaning to the term
chrome dome.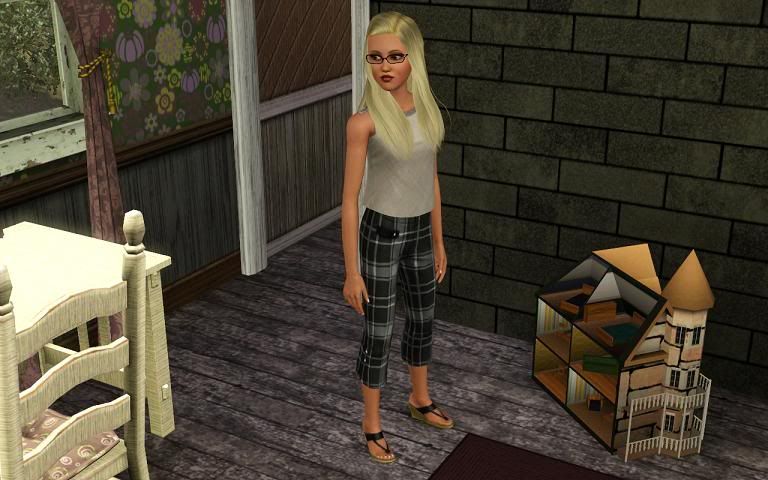 Nettie is a bit apprehensive about becoming a teen. She's excited to finally be able to do some more grown up stuff but also doesn't want to let go of her childhood. With a little help (from me, ha!) she tried to update her room ... a bit more grown up but still hanging on to some childhood favorites even though she didn't play with them anymore. Nettie has added Couch Potato to her traits of Brave, Insane and Hates The Outdoors. She's also started to think about the training she will need to become the very best Educator Twinbrooks has ever seen.
... of course our future teacher hates homework and must be reminded nightly to get it done.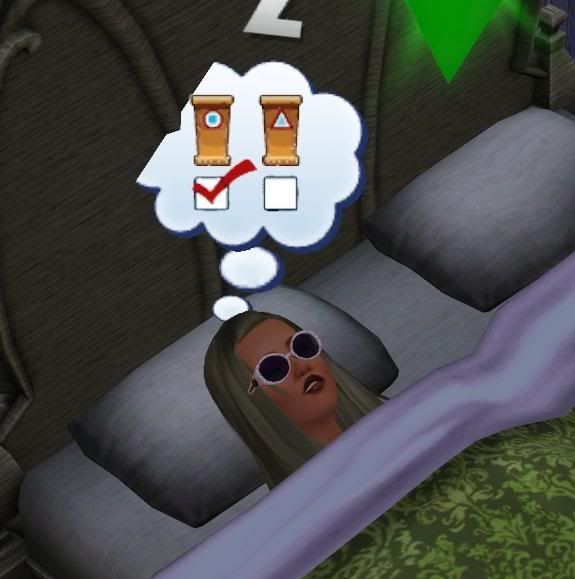 Up until now I found nothing overly
insane
about Nettie or her behavior.. then her first night as a teen she got dressed for bed... in her bathing suit!! She also loves to go to school in her best formal outfit!
Travis is very proud of his oldest daughter and they have a great relationship...
... at least when she's not teasing him about the health risks of being a vegetarian. These mocking sessions pop up out of nowhere and never last long ...so I'm thinking it's just another symptom of her 'crazy' trait.
... she does also really ...
really
enjoy taking to herself .. good thing Charisma is actually a skill that will come in handy once she joins world of education.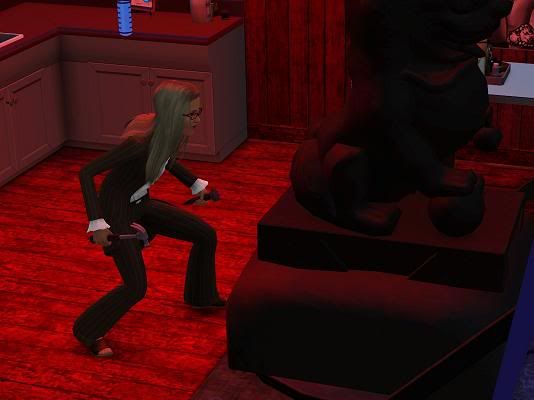 Nettie had the LTW of Renaissance Sim come up... like her Dad. I wasn't sure what to do but after a few minutes I decided since it was an actual wish that I'd let her have it. She'll need Logic and Charisma for the Educator Career and since she loves sculpting I figured that makes the three skills she'd need to reach Level 10 in.
She also found Dad's time machine and despite his warnings to leave it alone she decided to travel to the future. She didn't seem over impressed with anything in the future, but did come back with a renewed hatred for veggies.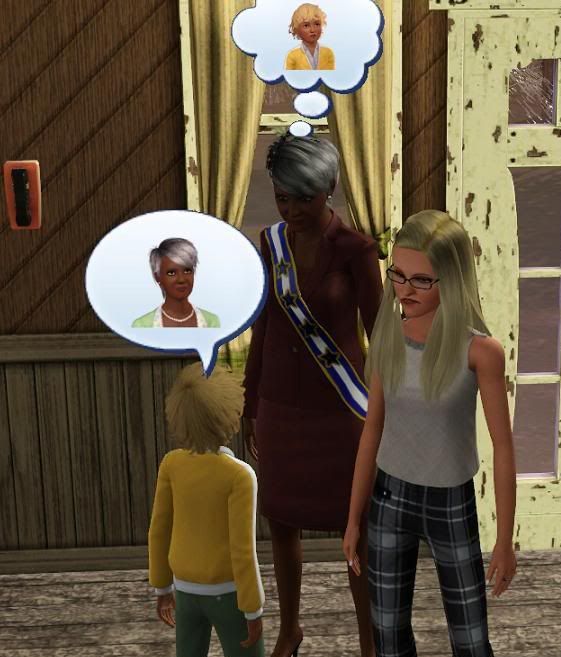 Carrie has managed to reach Level 8 of her Career and is now Governor of Twinbrook. Let's just hope she can work her way through the remaining levels in the time she has left. I've been trying to find a death flower seed but so far no luck... it figures when you don't want an elder to stick around any longer than necessary they have several death flowers.... when you actually might need one to stick around there isn't a death flower to be found anywhere!! LOL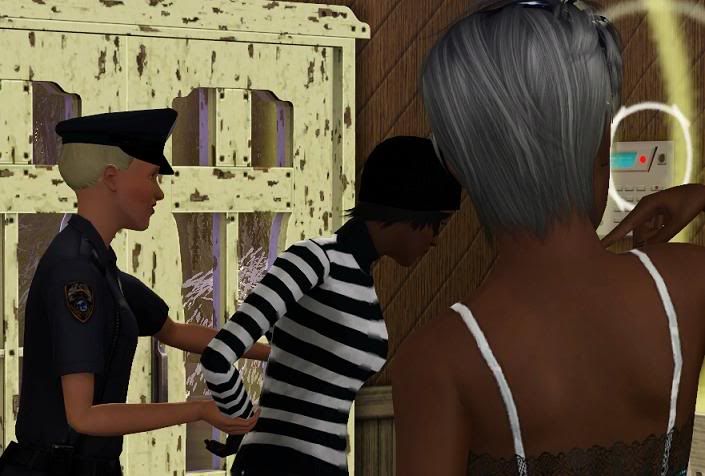 We also had our very first attempted break in! Sandi Molina had heard that the Governor and her husband kept some valuable items in the basement. The house may look like a typical
Swamp Road
house but Travis was sure to install a state of the art alarm system when he started bringing home expensive artifacts from all over the world.
...and just to be sure, Nettie rushed from her bed to take inventory of all the relics in the basement.. after all teachers don't make much and someday these items would be hers.
Christa however took the opportunity, during all the chaos, to sneak a peek at her big sister's Online Journal. She was pretty disappointed to find nothing but a crazy rambling blog entry about how bad broccoli is and that some day in the future it would be bio-engineered with human DNA and the Broccoli People would take over Twinbrook... '
after all she'd seen it with her own eyes'
... She might be a hot head but big sis was downright crazy!!