As we check back in with the Abernathy family we find that Carrie has finally reached her LTW to be "Ruler of the Free World"!
And none too soon either, as you can see Carrie had no time to waste as she nears the end of her Sim life. :(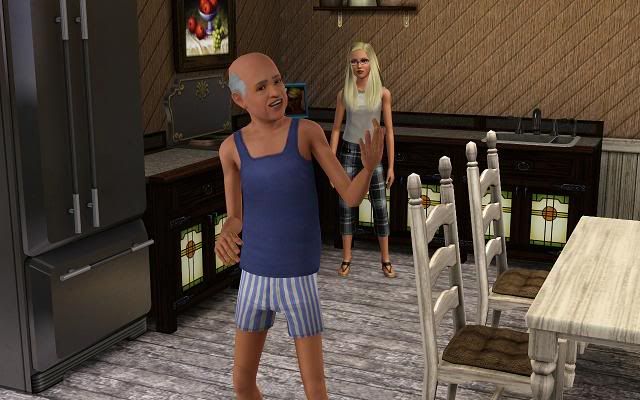 Suddenly the age difference between Carrie and Travis seem a big deal. Travis is just entering Elderhood while his beloved Carrie is at the end of hers.
Of course age has never had any baring on the affection and love these two have shown each other.. and anyone else who happens to be around! Travis decides in that moment to do something really special for Carrie.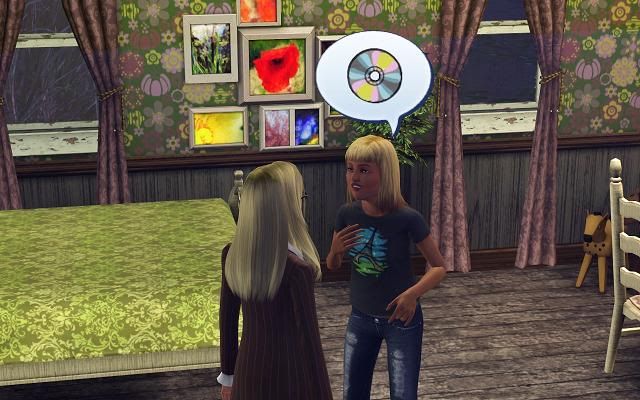 As Travis makes his plans the girls have also each aged up. Christa moved out as soon as she was old enough, something about following her dreams to be a top selling music sensation. They weren't close growing up but Nettie wished her sister the best.
Nettie entered her Young Adult years with the added trait of Genius. So Nettie's current Challenge stats are ~
Traits -
~ Insane
~ Hates The Outdoors
~ Brave
~ Couch Potato
~ Genius
~ Rolled Career and goals
~ Educator
-Reach The Top of Career
-Give Lecture Once a Week (once you reach the level that lets you.. Lvl 5?)
-After Reaching Top of Career Give 3 Great Lectures Per Week
- Max Logic and Charisma Skills
- Tutor A Non-Family Member Sim At Least Once a Week (this one is just my own added goal!)
Nettie also has the LTW of Renaissance Sim - Max 3 Different Skills
Travis managed to get Carrie to retire and threw her a retirement party. Despite ditching the rusty armor in favor of a finely tailored suite for the special event people just couldn't stop staring and talking about Travis and his escapades around town ... 'the rusty knight on the green Vespa' ... Travis wasn't too bothered by all the looks and comments... One thing is for sure the town of Twinbrook won't soon be forgetting this Knight and his motorized green steed! After the party Travis whisked away his beloved to...
Romantic FRANCE!! Nettie never had time to travel before and Travis traveled so often to France he was pretty much considered an honorary Frenchman.
... and while in France ... well ... YOU know!! They are a cute old couple though.
And of course since her parents were busy celebrating their long and loving marriage ... Nettie decided that she too would look for love. She really hadn't given guys much thought, but seeing how quickly time passed for her parents marriage she decided not to wait. And so the search for true love begins... unfortunately flirting can often be a bit tough when you are
insane!
And most of her conversations seem to freak out the locals a bit. Battiste Rousseau's reaction to her stories were not a bit promising.. finding her true love might prove a little harder than she thinks.
Then she met
them ...
The Saint James twins! Napoleon, a suave sweet talker who was just too cool for school. He was quite a hottie and seemed keen on Nettie.. until she started talking...one thing led to another and before either of us knew it Napoleon was storming off to the other room.
Which worked out fantastic because his brother, the quiet and shy Theophile was not freaked out a bit by Nettie's tales of ghosts or conspiracies... as a matter of fact he loved hearing her stories!! And she just found him adorable...
With her Dad's Level 3 Visa Nettie and Theo had a whirlwind romance over the next several days. Not wanting to waste one single minute of life without her new love, Nettie took a deep breath and dragged Theo into the bathroom to propose! Ok ok maybe not the best place in France to pop the question but young love makes you so .... impatient. =D
Now that they were husband and wife they decided it would crazy to not have their very first Woohoo in the Land of Love .... in his sexiest French accent Theo cooed to Nettie... '
my love let me show you why the French are known as the best lovers in the world...'
..to which Nettie freaked out and said '
oh hell no, buddy'
... to which I said..' ummm what the hell is going on now with this game. I checked Theo's stats and there is no reason the Woohooing should be hitting such a snag. So....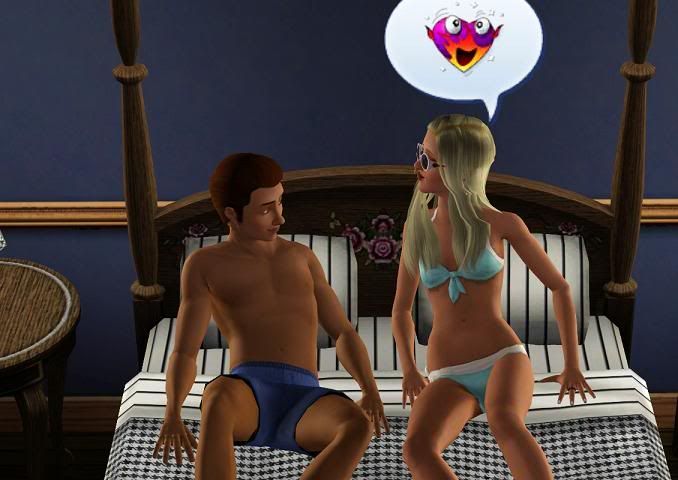 I had Nettie in her very hottest Twinbrook accent coo into Theo's ear ...
'hey babe times a wasting .. let's do this thing already'
......and we get another shut down! Before
I
, I mean,
they
can try again... Travis calls the whole family to the lobby of the hotel... he has a surprise for them .. and of course he gets the surprise of meeting his new Son In Law. Since him and Carrie haven't really left their own hotel room in days he decides to not make a fuss about missing the wedding.
Carrie loves Travis' surprise. It's their very own vacation home in the beautiful French countryside. The family spends the remainder of their trip at their new home. And although Carrie and Travis realize they may not have enough time to make it back before Carrie passes on they are excited to know that their children and their children's children will be able to enjoy this lovely vacation home and make memories of their own here.
Upon returning to Twinbrook Carrie and Theo waste no time getting their careers underway. Carrie heads to the local school to apply for a teaching position and Theo heads off to the Sports Complex to try out for the local soccer team.
Nettie absolutely loves teaching. The starting pay isn't much so she takes on some tutoring jobs on the side for some extra money.
She also realizes that although she loves working with her students she really wants to have a child of her own. Being a modern woman she knows she can juggle both career and family. Plus Dad will be around to lend a helping hand and with Carrie set to meet the Grim Reaper any day now having a grandchild around might help her Dad from falling apart when the time comes.
.... and so ... in their
own
bed ....
... we finally have romantic success!
Sadly that day everyone had been dreading arrived. As in life, just as one ends.. so another begins.
The family is both sad and happy and try to focus on the soon to arrive wee one!
in through the nose, out through the mouth....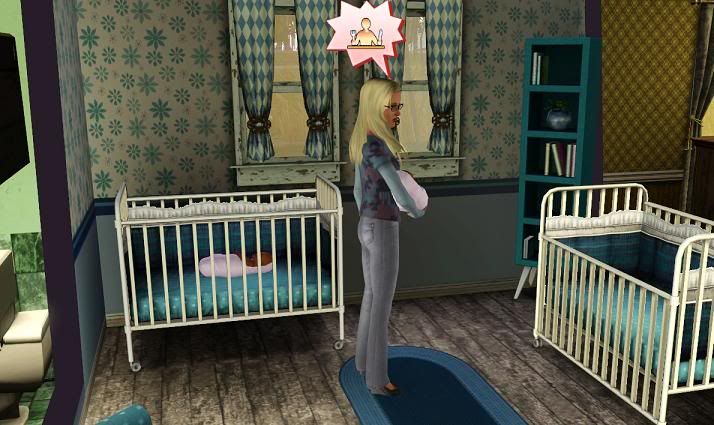 And so we meet out newest .. HEIRS! The Abernathy's welcome their very first set of twins. Both are girls. Little Agatha and Endora ... Nettie is really grateful she will have her father around to help with these two little .. angels?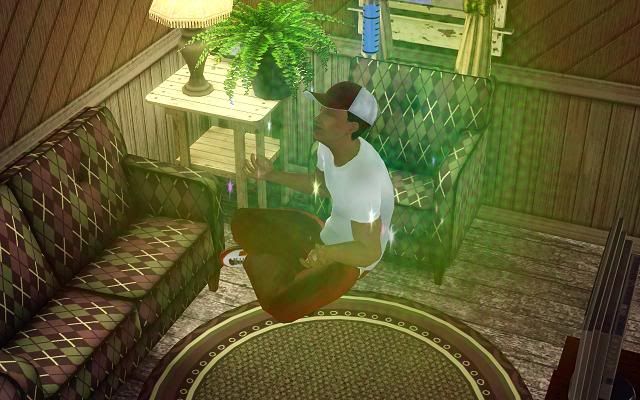 The rest of the family continues to work on their Careers and goals. Theo is a natural at Soccer and is working his way up the team roster at a good pace. He's also nearly met his LTW of Physical Perfection ~ Reach Level 10 in the Athletic and Martial Arts Skills.
Theo's Traits are - Disciplined, Artistic, Snob, Ambitious and Lucky
Nettie is usually busy teaching, lecturing and tutoring but she also really loves the sculpting station Carrie bought Travis awhile back. Something about wielding blow torches and chainsaws is just so thrilling ... and a bit nerve wracking at times given the whole
insane
trait thing, LOL
Travis spends his time helping with the babies and puttering around in his garden... he really enjoys telling the Gnomes about the girls and their antics.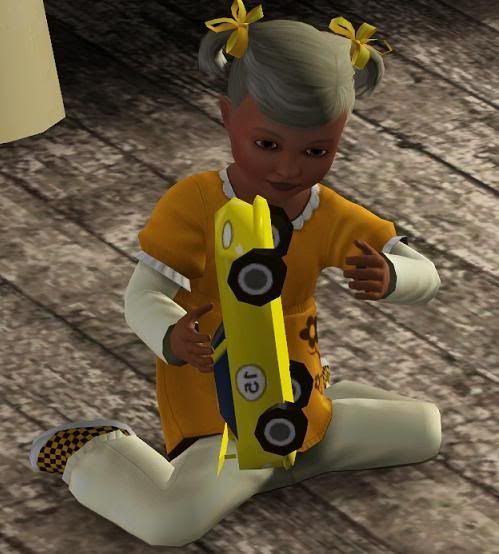 And so we meet our twins...
This is Agatha Abernathy
Traits - Virtuoso, Excitable, Friendly
She also rolled the Career of Gardener
Gardener Goals
~ Grow One Omni Plant
~ Reach Top of Career
~ Grow One Life Plant and One Death Flower Plant
~ Give A Member of Family One Life Fruit and One Death Flower
~ Must Stock Fridge With Only Food You've
And this is Endora Abernathy
Traits - Loner, Athletic, and Never Nude
She rolled the Career Nectar Maker
Nectar Maker Goals
~ Reach Top of Career
~ Must Get Your Grapes in France Until Level 2 of Career
~ Must own 2 Nectar Makers by Level 5
~ You Must Serve Your Own Nectar at Your Parties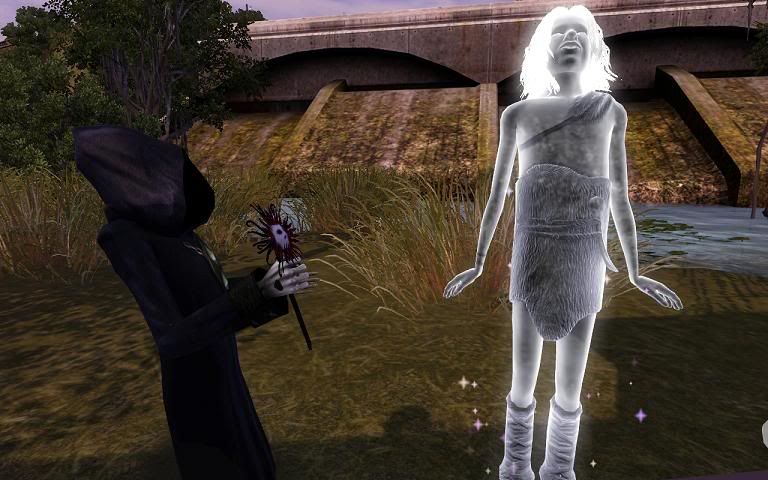 Following one of Travis' many trips in the Time Machine, he was shocked to return home and find Grimmy waiting for him. But thanks to all that gardening Travis just happened to have one of those weird flowers with a Voodoo Doll face on it... Grimmy seemed so entranced by the gift of the flower that he just couldn't take Travis... Travis was thrilled to have more time with his family and '
the girls'
in particular. He knew Grimmy would be back one day though.