The night of his birthday Travis told Lucas that he was moving out, he couldn't take Angela's bullying anymore. He packed up his invisible backpack and headed for the door. However before he could make it out Angela stopped him, took everything out of his backpack and ordered him out of the house without a dime. Travis was hoping to cash in some of the gems his grandfather had left him, as well as some pictures ready for sale.. and the Camera they were in!
So penniless and with only the clothes on his back Travis walked out of his home in search of a new life.
Travis took a cab into town where he heard of a program that let's less advantaged Sims 'homestead' abandoned homes in the
bad
part of town .. The Swamps. Beggars can't be choosers and so Travis accepted the deal and moved into his new home.
Home Sweet Home ...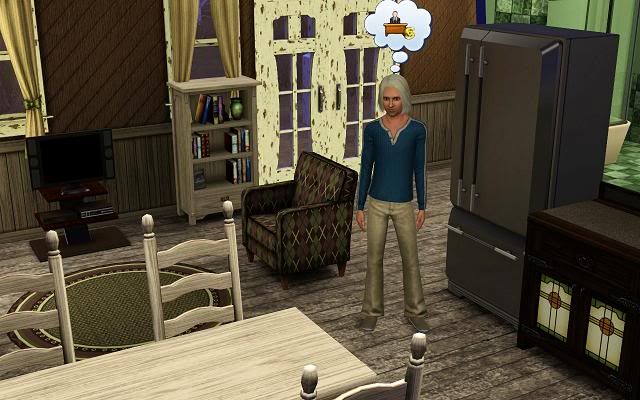 As Travis surveyed his new shack of a house he put his hand in his pocket and felt something. Lucas had slipped him some cash, he must have done it when they hugged goodbye so Angela couldn't see. It wasn't much $15000, but it was enough to spruce up the place and build a dark room. He'd have to make some quick money to get back to Egypt and purchase another camera or he'd never succeed at his career.
Travis had never had to do is own laundry but this place came with a washer and dryer in the basement and Travis actually found himself enjoying this all too common chore. And however little money he had this place was still a dream without Angela around.
Travis did sneak back to his childhood home to steal some stuff from the garden.. they owed him at least that much! A little clearing of the scrub grass and dead trees and Travis' little abode was looking pretty cozy.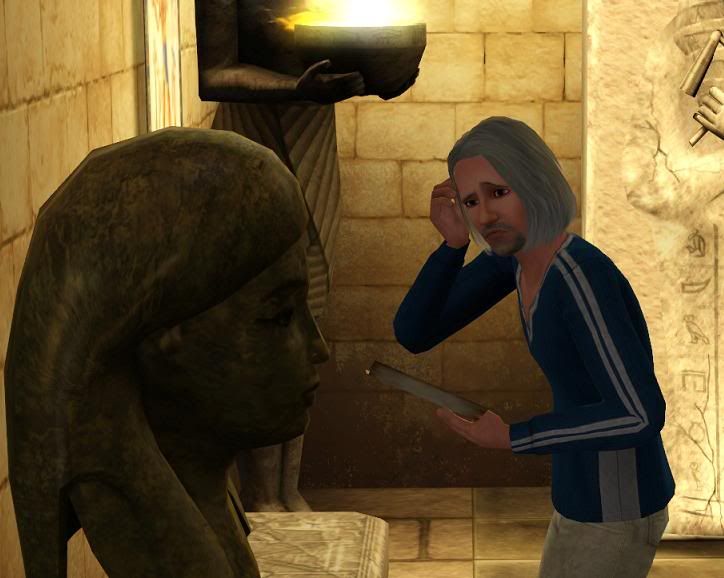 With a bit of fishing and a stipend for clearing all the debris from his lot Travis was able to venture off to his beloved Egypt. Knowing money was still an issue Travis took some explorer jobs for cash.
He hadn't realized how lucrative, or dangerous exploring the Pyramids would be, but luckyly strength was one skill Travis didn't lack.
Thanks to the escapades in Egypt Travis had enough money to buy a new camera, a Scooter and still had enough relics to display in his basement. But he was feeling a bit lonely living all alone. So he went through the contact list on his phone and called Carrie. He couldn't remember her last name because ... well because ..
I neglected to write it down!
LOL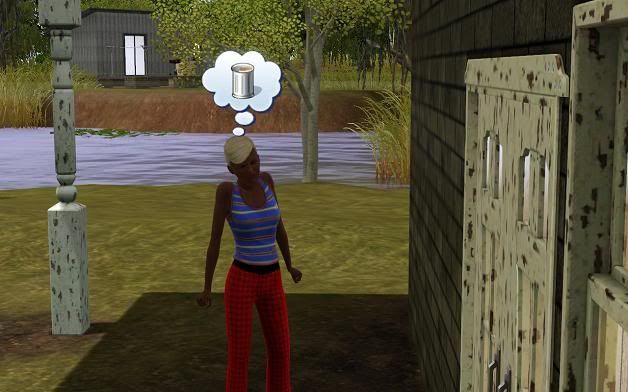 Carrie was thrilled to hear from Travis but not so keen on his project homestead. Still he was a cute kid and she couldn't wait to see him again.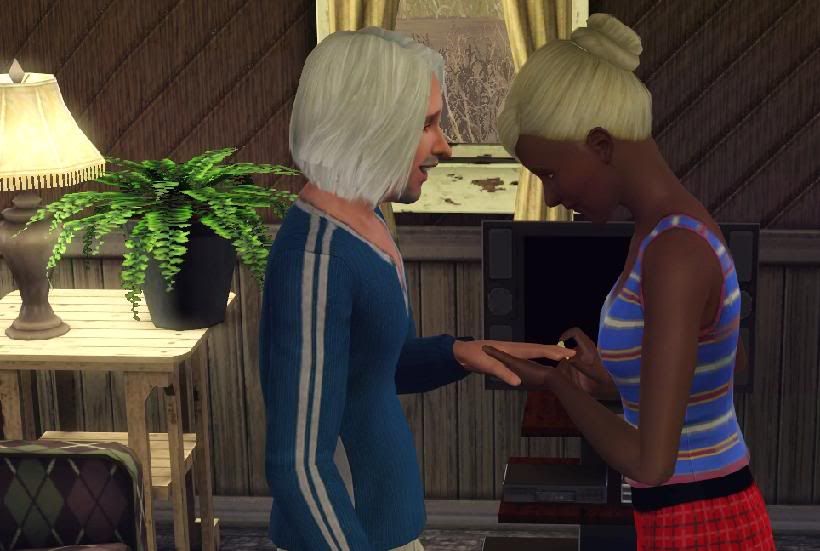 Needless to say after a whirlwind romance (
about 3 sim hours!!)
the two love birds knew they were meant for each other, words were said, rings exchanged.
And so Carrie Abernathy joins the family
Traits -
-Flirty
-Family Oriented
-Schmoozer
-Charismatic
-Computer Whiz
Her LTW is to Be Ruler Of The Free World (reach top of Political Career)
Travis was also going to wait to have children until both he and Carrie were about halfway through their adult lifespan... unfortunately Carrie is already several days into her adult lifespan and with her career goals it seemed best to ensure an heir before her career took over and age became a real issue.
Unlike the other Abernathy men, Travis seems to be able to look his true love in the eyes ... and not the .. uhhummm, other areas of the body.
..and we commence to the baby making!!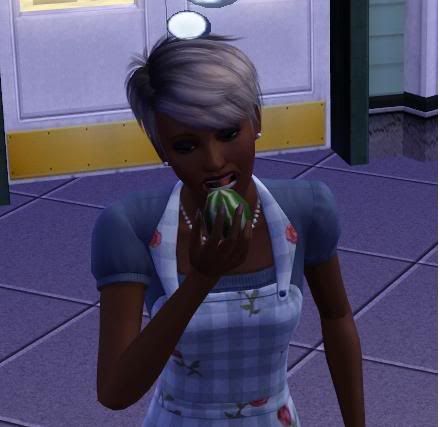 Carrie.. are you eating Watermelons?
Carrie - "yes, that's what one has to do went sent out on the town starving with only watermelons in your invisible backpack, .. but I'm thinking you already knew that!"
(
I can't take another male heir!! LOL)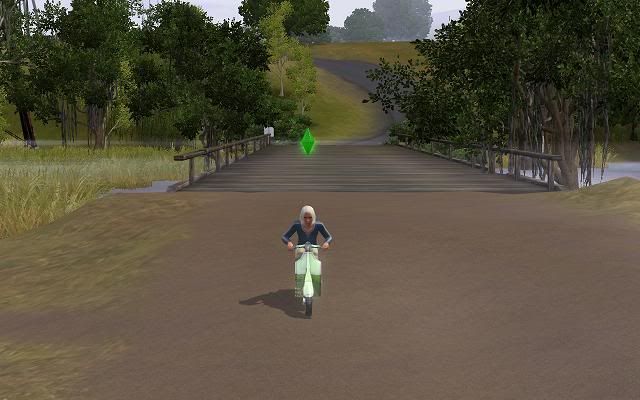 Finally while snapping the denizens of Twinbrook Travis gets 'the call' and races home on his scooter.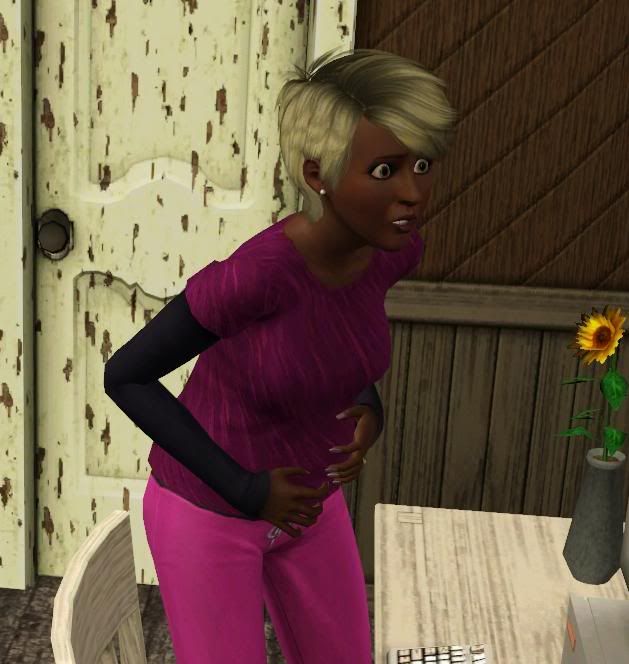 ..and 'Action' ............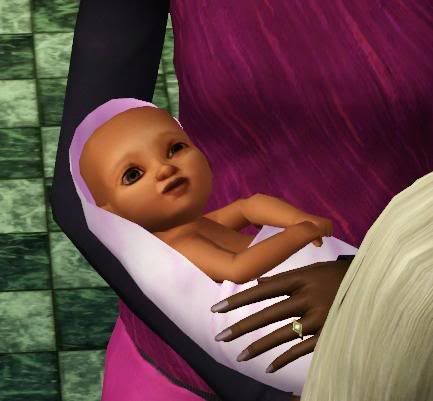 Hmmm, my long awaited female heir. I hope that wonky eye isn't a primary trait!!
World meet Nettie Abernathy
- Insane (
Oh lovely!!)


-
Hates the Outdoors (
watch her role Gardener or something!)


Life is looking good for Travis and his little family.